Two lists rank Tucson in top 10 for biking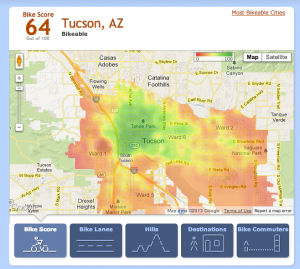 We are smack dab in the middle of National Bike Month and this week is Bike to Work Week.
It's also the prime time for releasing lists of the top bike cities.
On Monday, The League of American Bicyclists released their updated list of bike friendly communities. There were no changes for any Arizona cities.
However, two other organizations released lists of the top 10 biking cities in the nation.
The first was WalkScore.com who released their top 10 most bikeable cities. Tucson ranked number eight on the list with a bike score of 64.1 tying us with Seattle. You might remember last year's ranking where we were the eighth most bikeable city with a score of 64 and just behind Seattle.
Check out the site interactive map here.
In a new and less scientific list by the Travel Channel, Tucson comes in at the sixth spot for cycling in the United States. Here's what they said about the Old Pueblo.
Tucson is the sleeper on this list but not to be left out. This desert oasis has more bicycle infrastructure than any other city in the US, boasting more than 700 miles of designated bikeways. You can ride year-round without bundling up, and the mountain bike trails outside of town, as in the Santa Catalina Mountains, are top-notch — just don't crash into a cactus!
Impressively they all managed to spell Tucson correctly. So what do you think? Given the competition, are we ranked too high, too low or just right?
Problem with Walkscore/Bikescore is that it isn't all about Red Star...

I couldn't say, I haven't been to all the other cities, let alone ridden in them.  I don't know who has.  I hope that the people who created the lists have ridden in all these towns.  I hope they've ridden in all these towns in every season too.  It gets unpleasantly hot here in the summer, but it is possible to ride in the mornings or evenings.  When can you ride in some of these towns in January?  I'd have a weather factor written into my calculations that would make it almost impossible for some of those northern cities to break into the top 5 regardless of their infrastructure.  So. Cal. and Hawaii would get extra points.