Photo: Crews cleaning Mountain Avenue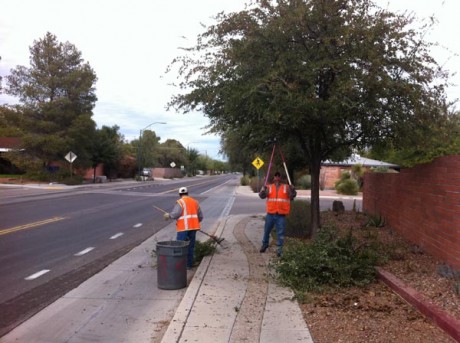 Crews were out on Mountain Avenue trimming trees and bushes that were in the way of cyclists and walkers this afternoon.
I've often told myself I was going to start carrying clippers to remove low hanging branches, but never actually do it. What about you? Have you ever done your own landscaping along your commute?
I've thought about carrying a little whisk broom, but I just can't see forfeiting my forward momentum to sweep glass.
I prune hiking trails. My wife pruned a bush that was on one of our regular cycling routes.
I have definitely been tempted to dig out that bush/tree that sprouts along the west side of the little connector path from the Rillito Path just before joining Mountain. I wish they would just take it out. They keep chopping down to the ground (which is just kinda sad) and it keeps coming back.