The city of Tucson released a "state of biking and walking report" of sorts last week.
The 30-page report touts what the department has been doing and what they have planned for the coming two years.
Here's a few tidbits from the report:
Bicycle Boulevards: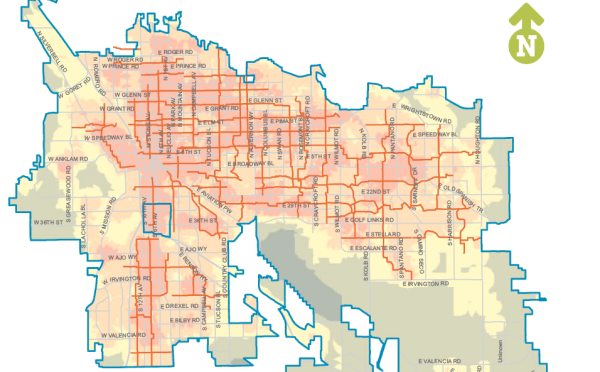 One of the major initiatives for the TDOT Bicycle and Pedestrian Program involves building a network of bicycle boulevards by utilizing the residential grid network. A potential network of 65 corridors totaling more than 180 miles has already been identified. Using a methodology similar to that which the Pima Association of Governments used to prioritize sidewalk projects in its update of the regional Pedestrian Plan, TDOT is currently analyzing the bicycle boulevard network to prioritize segments for construction when funding becomes available. The plan will be completed in 2015.
Upcoming projects:
There are more than 35 funded bicycle and pedestrian projects in the works, and TDOT anticipates most of them will go into construction over the next two years. TDOT is working on an interactive map for the Bicycle and Pedestrian webpage where soon you'll be able to go and learn more about all the projects. In the meantime, below is a map that shows generally where these funded projects are located.
Areas in Tucson without access to vehicles: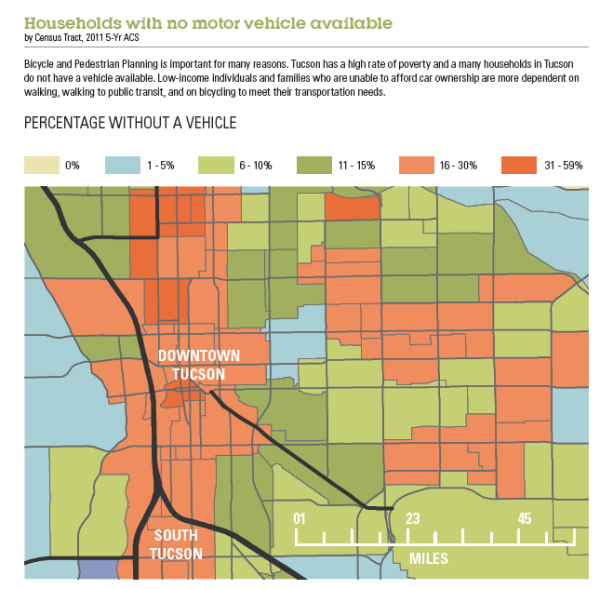 Download the entire report here.