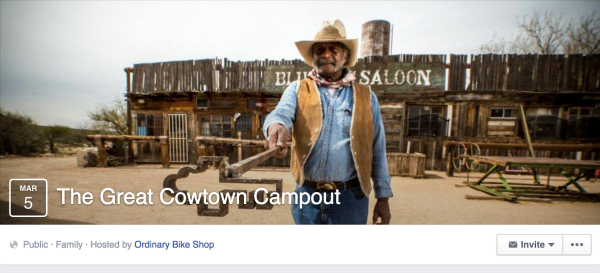 Looking for something to do this weekend? Join the Cowtown Campout and head out of town for a bicycle camping trip.
The event, organized by Ordinary Bike Shop, rolls from their shop at 3 p.m. on Saturday.
Here's the details from the event page:
In the 1970s after returning from the Vietnam War Ed Keeylocko chose Southern Arizona as his place to call his home, raise livestock, and live the rancher life. He raised livestock out southwest of Tucson and brought them into the livestock trade in town. He waited for the bids to come in and nothing… because he's an African American cowboy nobody would buy his livestock. So he started his own cowtown out at the base of the Coyote Wilderness area by handbuilding an entire ranch town. It was a one-man trading post that is still functional to this day. Ed Keeylocko, his ranch hands, and family still operate the Blue Dog Saloon out of Cowtown Keeylocko.

You can learn a little more about his story here.
https://vimeo.com/75817361

Ed and his ranch are living artifacts of the old west, of rugged living, and of American History. He carries a charm about him that really makes you feel at home at Cowtown. He has posted rules like NO LOUD CUSSIN and NO DISRESPECTING THE LADIES. His town carries an indescribable energy that can really only be experienced. It features a dirt floor saloon he operates by gas lamp when the sun falls. Ed is a veritable wealth of American History and his town is a legend of the Southwest.

We'll meet at Ordinary at 3:00PM and leave at 3:30PM to get out there for sunset.

The ride out to Cowtown Keeylocko is a relatively flat and very scenic ~30 mile ride. It has a 10ft bike lane the entire way followed by 5 miles of smooth gravel that would be easily traversed on a road bike. On the cycling end of things there are tons of miles of mixed terrain dirt roads, caves and mines to explore, mountains to climb, and gigantic vistas to take in. Early in the morning on Sunday a group is going to ride up Kitt Peak if that's you're thing. If not, just hang out at Cowtown and make some breakfast with the folks from Cowtown.

We'll have raffles from our sponsors and sag vehicles out there so if you need a ride back or need help carrying your supplies, WE'VE GOT YOU COVERED!

There's no need to bring beverages or food. Ed and the crew will be serving drinks at the Blue Dog Saloon until our best patron hits the dirt. Just bring some bar money and some cash to throw in on the BBQ.
Check out the event page for more information.