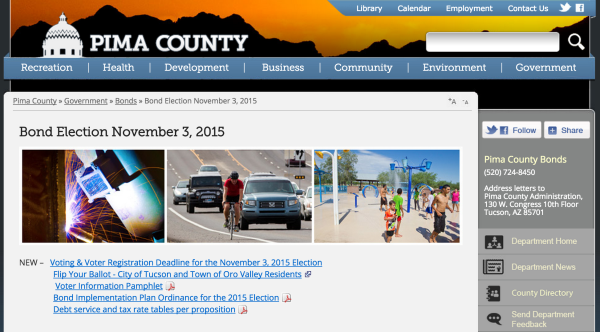 This November, Pima County voters will have to decide whether or not to support seven bond packages totaling $815 million in spending.
The bonds include several bicycle and pedestrian projects and some bicycle advocates are urging the cycling community to vote yes.
"It's an investment in our future,"Damion Alexander a bicycle advocate and member of 'Yes on Pima County Bonds' committee. "The 99 projects represent the diversity of the community. Unless you sit at home on the couch there is something in there for you."
Alexander said there are so many projects that benefit bicyclists and walkers including expanding Kory Laos bike park, $200 million for improving roads, trailhead improvements, open space preservation and better bicycle and pedestrian connectivity and the often talked about and long desired Tucson Velodrome.
"These types of things fuel the economy," he said.
However not everyone agrees that the county should take on more debt.
Taxpayers Against Pima Bonds argue that the county should not pass the bonds, which would raise property taxes and businesses in the community.
According to Pima County estimates, the amount an average homeowner would pay is $17.54 more per year to pay back the bonds.
The projects included in the bonds were debated during open meetings by a panel of 25 members from all the jurisdictions in Pima County.
Alexander said panel sorted through $3 billion in "asks" and narrowed it down to the $815 million.
You can check out the seven bonds and the 99 projects on the Pima County website or their interactive map.
The bike or pedestrian projects are listed below: