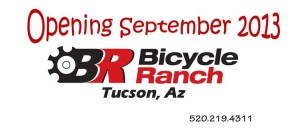 Cyclists on Tucson's northwest side will soon have another option when it comes to bike shops.
Tucsonan Steve Morganstern is bringing Scottsdale's Bicycle Ranch to Oro Valley.
Bicycle Ranch Tucson will be located at Oracle and Ina Roads on the southeast corner and is scheduled to be open on Sept. 15.
"We are in the corner right next to the Safeway," he wrote. "Since many people meet at the Beyond Bread location there already for rides, and being on the Sunrise bike path, we felt it was the perfect spot."
Morganstern said the partnership with Bicycle Ranch would be a good fit.
"We are an extension of the Bicycle Ranch in Scottsdale," Morganstern wrote. "The best way to describe it is a franchise/second location. The association gives us immediate name recognition in the cycling community and also the experience of a long term successful shop."
He said he wants to make the shop comfortable for all levels of riders.
"Our target customer is everyone," he wrote. I know that sounds cliché but we really want to be a full service family shop. There is enough good, high end racer or strong enthusiast shops in Tucson and we felt there needed to be a shop where everyone feels comfortable."
The bikes at Bicycle Ranch Tucson will be a little different than the ones sold at the Scottsdale location.
"We will be a Cannondale and Giant dealer which is great because they both have a full range of bikes including cruisers, youth, women's' specific, road and mountain," he wrote. "Cannondale is even back in the tandem business and Giant is rolling out a full line of 27.5 mountain bikes."
Morganstern is excited about the challenge.
"Cycling has always been a passion of mine and I am the point in my life where I wanted to combine that passion with the professional experience I have gained in sales, marketing and service," he wrote.  "It was that and a combination of wanting to do a family business with my father who is a partner in this venture."