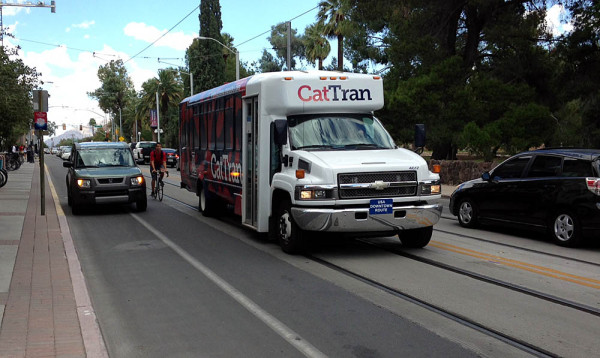 A loading zone along the streetcar route will be moved in the coming weeks, giving cyclists riding south on Park Avenue a little more room.
Streetcar construction manager Joe Chase said crews will create two new loading zones on University Boulevard between Park Avenue and Tyndall as well as one on Second Street west of Park Avenue.
Once the new loading zones are in place, the current loading zone on Park Avenue in front of Paradise Bakery will become a no parking zone.
Currently motorists may park in the loading zone for 15 minutes blocking the bike lane, which forces cyclists into the travel lane.  The road does not provide enough space for a cyclists to be out of the door zone unless she is riding down the center of the tracks.
Chase said the new loading zones will not cause the same problem at the new locations.