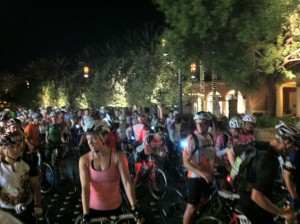 El Tour de Vegas? It's coming.
Perimeter Bicycling of Association of America, the organization that puts on El Tour de Tucson is expanding to Las Vegas by taking over the Viva Bike Vegas ride.
In January the Regional Transportation Commission of Southern Nevada, the group that organized the ride, canceled the event for 2014 because they lost $117,000 on the 2013 event.
Perimeter president Richard DeBernardis said he worked as a consultant with the group when they started the ride about six years ago and has continued to help with the event.
The group approached DeBernardis to take over the event earlier, but at the time he was worried about the future of El Tour de Tucson and couldn't commit to it.
When the RTC announced the cancellation of the 2014 event, he contacted the organizers and investigated the possibility of taking it over.
DeBernardis said the the communities fully support the ride and want to make it a success.
"It is so different working up there," DeBernardis said. "These guys respect the work we have done down here."
The communities along the 100 mile route have agreed to help with barricades and traffic control, which is one of the largest expenses for bicycle events.
Another pro for DeBernardis is that the ride takes place the day after Interbike.
"All the ingredients are just right, DeBernardis said. "It would be silly not to do it."
Perimeter Bicycling has three months left to get cyclists to register and are aiming for 1,700 participants in the various event distances. Starting in 2015 the ride will be renamed El Tour de Vegas.
DeBernardis said El Tour de Vegas is just the beginning. He envisions, with encouragement from Special Olympics, five El Tours being put on during the year all of which would lead up to El Tour de Tucson.
For now, DeBernardis said they were focusing on putting together a professional and safe event when it rolls on Saturday, Sept. 13.