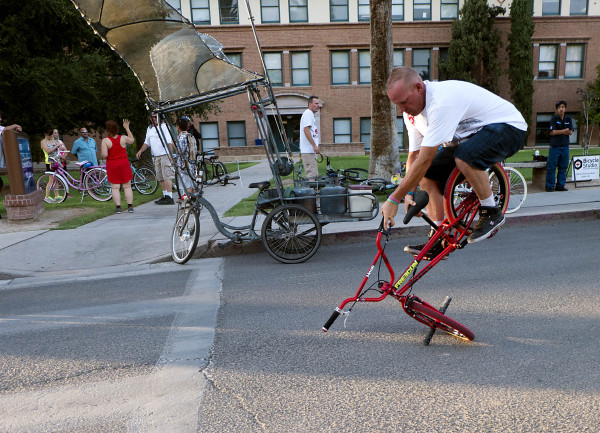 A 239th birthday party doesn't have the same ring as 200th or 250th, but Tucson Bike Party organizers think it's worth celebrating anyway.
The first bike party was so much fun organizers decided to throw another bike party to loosely coincide with Tucson's own birthday, which is technically today.
Like the first bike party, the ride will start at the Flagpole outside Old Main on the University of Arizona campus. Gather at 6:30 p.m. and wheels rolling at 7 p.m.
The leisurely ride will amble through Fourth Avenue, downtown and to the foot of A Mountain which the Tohono O'odham called Chuk-Son.
Here's a snippet from the (dated) Arizona Cultural Inventory Project:
The name Tucson originated from the Papago name for Sentinel Mountain which is Chuk Shon. The Spanish pronunciation, Tuqui Son or Tucson, was an approximation of the Papago form. Excavations have discovered ruins dating to at least 900 A.D. Tucson was first mentioned by Fr. Kino in 1697, but it was then referred to as Chuk Son and was a place outside the original town limits. In 1769, Fr. Francisco Garces had a small pueblo constructed for defense against raiding Apaches. The name San Augustin del Tuquison was given to this pueblo to distinguish it from nearby Chuk Son.
The ride will continue to the Mercado for ice cream and cake (and drinks if you are into that kind of birthday party).
A group will also head from the Mercado to La Cocina for the Kitchen Sync dance party, which charges a $3 cover. 
Check out the event page for more information and a map of the route.
In the meantime check out a few photos from the first bike party.