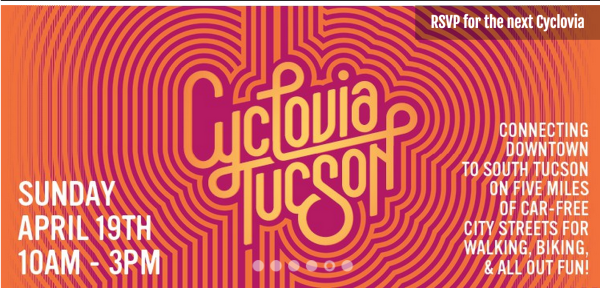 Cyclovia, the crown jewel of Bike Fest Tucson, is this weekend, but it's not the only event worth checking out. Get all the Cyclovia Tucson for Sunday below, but be sure to check out all the other events.
Friday: New Belgium Clips Beer & Film Tour
Time: 6-9 p.m.
New Belgium Brewing hosts this FREE , all ages bike in move featuring  a special showing of New Belgium Clips Beer & Film Tour. We took our love for beer and fans and put them together in this one-of-a-New-Belgium-kind event. You'll get to try our most esoteric beer offerings and pair them with inspiring short films created by fans. The best part is that 100% of the proceeds from beer sales benefit a local non-profit who are working to improve your community!

Food vendors & Festival fun begin at 6:00 Movie starts at  7:30

http://www.newbelgium.com/events/clips-beer-and-film.aspx

Free Bike Valet by Living Streets Alliance, sponsored by New Belgium Brewing
There is a ride leaving from the Old Main flag pole at 5:30 heading to the screening. More details about the ride here.
Saturday: Ride the Gender Blender!
Time: 6-11 p.m.
Calling all Drag Queens, Kings, Boys-In-A-Skirt, Girls-in-a-Mascara-Moustache, and all other gender-curious & unique bikers! We are going to ride the night out, and we are going to do it in STYLE! Stops as determined by group/mob rule, including, but not limited to, Tucson's finest eateries, breweries, public art, cocktails, and pretty much whatever else strikes our fancy! Bring plenty of cash to support locally-owned establishments.

Find this event on Facebook: https://www.facebook.com/events/827127630678529

Come be FABULOUS!
Sunday: Cyclovia Tucson
Location: Downtown to South Tucson (Route map)
In addition to closed streets to ride, skate and walk there are several activities planned for along the route. Here's the list:
Mission View Elementary Activity Hub, S. 8th Ave. & W. 37th St.

Clif Kid Rock Climbing Wall

Tucson Community Print Shop Notebook Making Demo – make your own souvenir notebook!

Food Truck: Eegee's

Garden Kitchen Activity Hub, S. 4th Ave. & E. 32nd St.

Healthy snacks, obstacle course, music, activities and more

Cyclovia Hideaway, in front of Mi Nidito Restaurant, S. 4th Ave. & E. 28th St.

Bookmans Sports Exchange Giant Jenga and prizes

Local First AZ – become a localist and learn about supporting local businesses

Pick up a limited edition guide to the restaurants of South Tucson, redeem your receipt at a local restaurant for a souvenir

Jumping castles, DJ and more

Save Oak Flat Street Party, S. 4th Ave. & E. 26th St.

Live hip-hop, indigenous speakers from the Apache Reservation, Chiricauhua Barbeque, rock climbing wall

Screen printing demonstrations at the Gloo Factory

Santa Rita Park

OS3 Bike Club from Nogales, AZ

Isabella's Ice Cream
Pima County Dept of Environmental Quality
Book Bike
Pima County Health Department
Pima County Regional Wastewater Reclamation Department
Pima County Traffic Division HAWK Light
Pima County Taking Action Against Graffiti Program
Pima Association of Governments
Pima County Natural Resources Parks and Recreation
GeoInnovations & Solar
MMOS
Square Noise
Trek
Metropia (sp)
Playformance
YMCA
Loop Jersey Sales