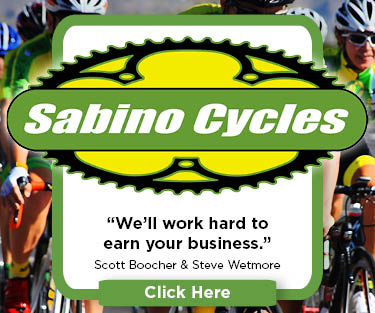 I'm excited to welcome Sabino Cycles to Bicycle Tucson as the site's newest sponsor.
Sabino Cycles has been a fixture in the Tucson bicycle community since 1994 when it opened at Tanque Verde and Sabino Canyon Roads.
Co-owner Scott Boocher said the store's success has come from their commitment to finding the right products for their customer and it keeps them coming back.
"We consistently provide the products and services that best suit their particular needs, saving them time and enhancing their cycling experiences," he said. "But many also become real friends, joining shop rides and just hanging out at the store. We love to share the cycling lifestyle with our customers."
Sabino Cycles is truly a full-service shop.
"We support two of the top road racing teams in Tucson, Sabino Cycles Racing and Summit Velo," Boocher said. "We also support some world-class triathletes and mountain bikers. At the same time, we take the most pleasure in helping fitness riders, commuters, and kids find a quality bike, so they can enjoy a healthy lifestyle. We offer Specialized, Seven, Cipollini, and Electra/Townie, while servicing all brands."
Boocher said everyone at Sabino Cycles is committed to finding the right gear for each customer.
"We won't rest until you love your new bike or gear," he said. "If there's a problem we'll make it right."
The shop is located on the northwest corner of Sabino Canyon and Tanque Verde Roads at 7045 E. Tanque Verde Road.
I'm thankful of the support Sabino Cycles provides to Bicycle Tucson. Be sure to check out their website for more information and give them a like on Facebook to keep up with their shop rides other events.