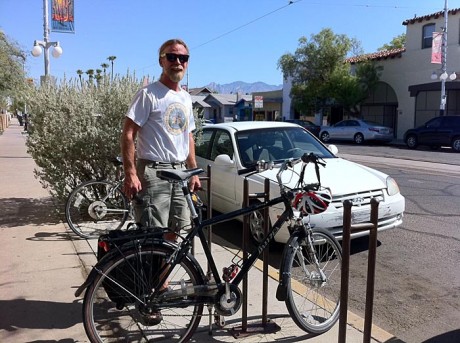 Steve Wilson says his Breezer Uptown 8 is his "old man's bike." The story about how he got it is pretty interesting.
Steve won it from Bicycling Magazine during a commuter contest the magazine was running. The point of the contest was to encourage people to ride their bikes to work.
Steve, a former president of the Greater Arizona Bicycling Association and an IBM employee, needed no encouragement.
He has recently retired from IBM, but says he rode his bike to his job the last 966 days of work. The last time he drove to work was in 2005.
Instead, he won the bike for being a mentor to a new bicycle commuter. Both he and the friend he was mentoring won bikes.
The Breezer is just one of the many bikes he and his wife currently own.
"We have 11 bikes and one car," he says. "It seems like the correct equation. A bike for every occasion. Almost."
For Steve riding is just plain fun.
"It is an inherently pleasurable thing," he says. "That fun has just never gone away."
The health benefits and money savings are just extra benefits for him.
Steve says if there is one thing he would do to improve cycling in Tucson, it would be to finish the river path system.
He wants to see more people on the road commuting, but realizes many people are afraid to ride on the streets with cars. He hopes the completion of the river system will encourage more people to get on their bikes and eventually expand their skills so they can use the bike for getting places too.