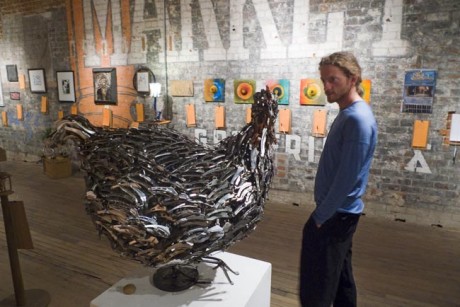 The 20th Annual BICAS Art Auction is this week and is an event not to be missed.
The silent auction is one of BICAS' biggest fundraisers of the year and shows off creative ways to reuse bicycle parts for art.
A preview of the artwork will take place on Friday Dec. 4 from 6-10 p.m. at the Art Gallery located at 1122 N Stone Ave.
The silent auction takes place the following night from 6-9 p.m.
Here's a description of the event:
Celebrate 26 years of BICAS and our 20th Annual Art Auction full of bicycle-inspired artwork, music and entertainment! This family fundraiser event is free to attend. Drinks, food, arts and lots of great gifts for the holidays!  Artwork is up during the two nights; up for bid on Saturday; and highest bidders may purchase and take home the art Saturday night. There's also plenty of holiday gifts and merchandise for sale both nights!

This fundraiser sustains us throughout the year so that we can continue to provide affordable and free bicycle education and services to the Tucson community.
Check out some of the photos from previous auctions.