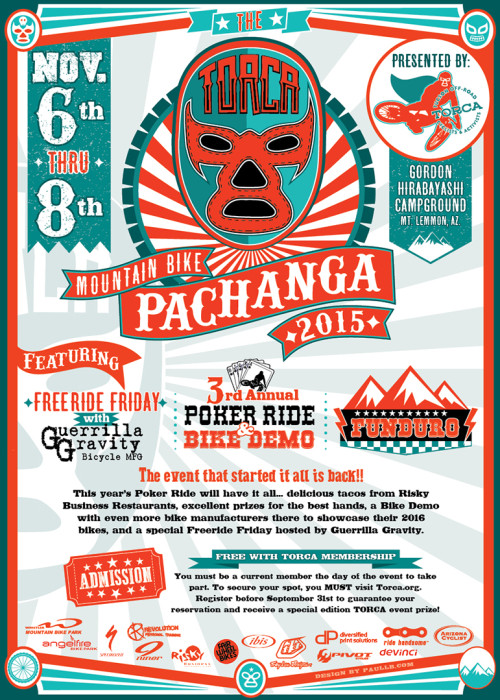 Local mountain bike advocacy organization TORCA is celebrating all things mountain biking at the 2015 Pachanga, Nov. 6-8.
The event is open only to members, but is free to members and there are still spots left. The cost of membership is $40.
Here's some information about the event from TORCA:
 

PACHANGA Spanish   /paw*chong*guh/   (Noun)

1.       Party or Bash

2.       A gathering of mountain cyclists in the Santa Catalina mountains to revel whilst shralping, camping, and imbibing.

 The little camping/riding event that put TORCA on the map is back and it just keeps getting bigger and better! Last year we stepped up and added a demo day to the Poker Ride which everyone loved!! This year we're making it a whole weekend full of fun events. This event is open to members only. To become a member click here.
And here are the weekend events:
FREERIDE FRIDAY
November 6 1:30pm to Dark

We have added a few fun twists to the event starting with taking our ongoing weekly event "Freeride Friday" and adding a spice to it. Never joined us for Freeride Friday? Time to make it happen! We shuttle you on Tucson's only DH trail, Aspen Draw(AKA Aspirin Draw).  We shuttle till dark and afterwords, we share in all the war stories and a couple cold ones! This year Guerrilla Gravity will be sponsoring it and bringing their Megatrail's and their Dh rigs for everyone to try out on a most appropriate and fun trail!  

3rd Annual POKER RIDE AND DEMO DAY
Saturday November 7, 8:00am to 3:00pm

Last year we had 5 manufacturers (Specialized, Devinci, Niner, Ibis, Pivot) and this year we're bringing out even more! In addition, we listened to everyone's feedback last year so this year, you'll have the opportunity of trying out a 2016 bike during the Poker Ride as well as during the demo hours. We'll take care of shuttles, Lunch consisting of World Famous Korean BBQ Pork Tacos, Beans and Rice compliments Risky Business Restaurant's. Beverages compliments of Borderlands Brewing and Young's Market Distributors.   

Inaugural FUNDURO
Sunday November 8, 9:00am

We're taking the talk of the mtb world, the "Enduro" and adding a little more "fun" to it. This will take place on one of Tucson's favorite(if not favorite) trails, La Milagrosa Trail! In a FUNDURO, there is only one class and it's not about who the fastest riders are. We take the average time of all participants and the 5 race times closest to the Avg are the winners! If you're the "STRAVA" type, we may have some prizes for you too, but shhh, THIS IS NOT A RACE!  It's a time trial. 😉
For more information and to sign up, visit TORCA's website.