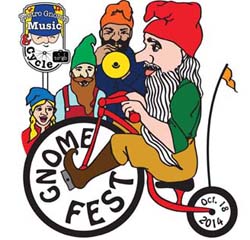 Ever wanted to try your hand at folding a Brompton folding bicycle or help break a record?
If so, you can try your hand at both during this weekend's Gnome Fest organized by Metro Gnome Music & Cycle To Go.
A year ago Metro Gnome, a used musical instrument store, added folding bikes to its business including Brompton folding bikes. The business changed its name to  Metro Gnome Music & Cycle To Go and are the only Brompton dealer in Tucson.
Gnome Fest celebrates music, bikes and, of course, gnomes.
In addition to the Brompton folding contest, there will be balance bike races and a bike valet for people who show up on bicycles.
There will be live music and food at the event, which takes place on Oct. 18, from 11:30am – 6:00pm at 4044 E. Speedway.
Gnome Fest will also attempt to break the world record of number of people dressed as garden
Get more information about the event and the band performances on their website.