Being a bicyclist in Tucson during the fall requires us to make some difficult choices about which event or bike ride to participate in.
Here are the 6 can't miss bike events this fall:
El Grupo Fall Fondo Fundraiser: Nov. 1, 7:30 a.m.
El Grupo is hosting it's second annual Fall Fondo Fundraiser with 45 or 75 miles route options. Registration is $100 and is limited to 200 riders. Here's a snippet from the event website:
Taken from the Italian version of Gran Fondo: El Grupo's Fall Fondo is a Fundraising ride with planned routes around the beautiful west and northwest sides of Tucson. Whether you choose the 45 or 75 mile option, this Fall Fondo is designed to be a non-competitive, enjoyable ride that you do at your own pace. There will be a sag stop on each route with delectable snacks to whet your appetite. The finish is back at the clubhouse, where there will be a full-fledged Festa [italian for party] underway with food, beer, a raffle, and a DJ. El Grupo's Fall Fondo is a fundraiser to support El Grupo's youth riders and programs, while also celebrating our two-wheeled lifestyle!
Cyclovia Tucson: Nov 1, 10 a.m. – 3 p.m.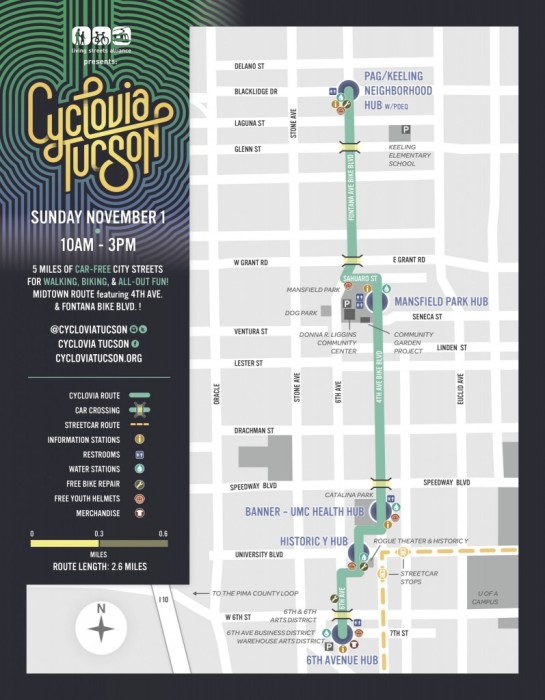 Cyclovia Tucson returns to the 2.6 out and back route that stretches from 6th Avenue and Seventh Street to Fontana Avenue and Blacklidge Drive.
The event is free, but Living Streets Alliance is attempting to raise $5,000 before the event that more than 50,000 people attended last year.
Get more info about the event here.
See our previous coverage here.
SDMB Pint Night: Nov. 4, 6 p.m. – 9 p.m.
Sonoran Desert Mountain Bicyclists is hosting a pint night at Borderlands Brewery to fund new trails in Tucson Mountain Park. Here's a snippet from the event site:
$20 gets you 2 beers, a limited-edition pint glass with artwork by local cycling artist Rudy Nadler, and the satisfaction of helping new trail happen in Tucson. All proceeds go to singletrack projects at Starr Pass.
GABA Bike Swap: Nov 15, 7 a.m. – 2 p.m.
The fall GABA Bike Swap returns to the Fourth Avenue area for the event that attracts 40 vendors and 5,000 attendees.
More info on the GABA website.
Urban Assault: Nov 15, 9 a.m.
The Urban Assault Ride returns to the Old Pueblo for their two-wheeled party and scavenger hunt starting at the Mercado San Augustin. Entry is $50-65 per person.
You can register here OR signup to help Sonoran Desert Mountain Bicyclists who are in charge of the checkpoints.
El Tour de Tucson: Nov. 21
El Tour de Tucson caps off the the fall's busy bike season. There are various event distances and start times. Check out the website for registration.
Check out our coverage of previous El Tour de Tucson events.