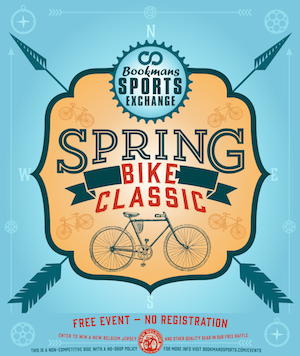 This weekend is the final weekend of the 2015 Bike Fest Tucson and it absolutely packed with events. Here are four to get you started.
Friday: Bike Picnic
Location: Juhan Park to Mission Garden
Time: 5:30-9 p.m.
A leisurely ride along the Santa Cruz River path to a BYO picnic dinner in the Mission Gardens.
We'll stop at the Mercado on the way so if you didn't pack a dinner you can pick up some tasty takeout from Seis Kitchen or Blu. From there we'll continue on to the Mission Gardens, a re-creation of the Spanish Colonial walled garden that was part of Tucson's historic San Agustin Mission.

Ride leader Donna Tang has arranged for special evening access to the Gardens and will talk about the 4100 year history of food and agriculture along the Santa Cruz River, and how the Gardens tell that story.

We'll start at Juhan Park, located at Grant Road and the Santa Cruz River (see map). It's 4.2 miles one way to Mission Gardens.
Friday: Bike-in Movie (Goonies)
Time: 7-9 p.m.
Location: Franklin Docks
The Bike Fest Bike-In Movie Series concludes with pirates, rich stuff, Cyndi Lauper and BMX bikes. It's the Brat Pack's finest adventure, "The Goonies"! And, if you've never been to the Franklin "Docks" before – this is your chance! This elevated platform in the heart of downtown use to be home to rows of warehouses where goods coming in off the Union Pacific Railroad were unloaded and stored. But don't worry, we will pause the movie when the trains go by. Yay!!

Movie Synopsis (really? you haven't seen "The Goonies"?): In order to save their home from foreclosure, a group of misfits set out to find a pirate's ancient treasure.

If this is your first time joining the Bike Fest Bike-In movie series here's what to expect:
Local cycling advocates Collin Forbes and David Forbes (not related) have a completely portable large-screen, outdoor movie set-up that they bike around to different locations around town to show you great cycling-themed movies in unique, public places, like parks. Every part of the movie set-up is "wireless" meaning they don't even need electricity to make it all happen. Can you see the movie? Yes. It is projected on a giant, 11-foot wide screen. Can you hear the movie? Yes. David Forbes bring loud speakers, mounted to his bike.

You will need to bring: a blanket or something comfortable to sit on, snacks (some to share is nice too), and anything else you need to be comfortable. Last year, the organizers provided some portable camping stoves to make Jiffy Pop which will happen again this year.

This is truly a unique, fun, community-minded series of events you won't want to miss. Tell all your friends and come find the Bike-In movie in a park near you!
Saturday: Bookman's Sports Exchange Spring Bike Classic
Time: 8 a.m. -1 p.m.
Location: Bookmans Sports Exchange
For more info, visit: http://bookmanssports.com/events/spring-bike-classic/

Spring is here and we are eagerly anticipating an event like no other. We are excited for the opportunity to explore Bookmans by bike. We're not riding to just one store. We're riding to all 4 of our Tucson locations. Join us at 8 a.m., on Saturday, April 25 for the inaugural Bookmans Sports Exchange Spring Bike Classic.

We are stoked to partner with New Belgium Brewing on this 35-mile ride. We will begin our pedal powered odyssey at the Sports Exchange. Our first stop will be Bookmans Speedway. We will then cruise the loop to Bookmans Ina. The next stop is Bookmans Grant. Our final leg of the trip will take us back to the Sports Exchange. Each of our pit stops will have water, nutrition and sweet giveaways from New Belgium. On our return to the Sports Exchange, we will be greeted with a New Belgium pint, a scrumptious food truck for lunch and a raffle for a New Belgium Bike Jersey.

The Bookmans Sports Exchange Spring Bike Classic will be a bicycle excursion like no other. Tour the heart of Tucson while we travel to all of our stores. This is a free event and there is no need to register. Bring yourself, a friend and your thirst for the road.
Saturday: 
Adventure Bike Ride: El Paso and Southwestern Railroad Right of Way
Time: 9 a.m. – 12 p.m.
Location: Ordinary Bike Shop
Come explore the historic railroad right of way between Barrio Anita and Arizona Feeds at S 6th and E 37th.
The El Paso and Southwestern Railroad ran from El Paso into Tucson from 1912 until 1924. The tracks are gone but the dirt right of way is mostly intact, and there are plans to develop it into a walkable, bikeable greenway park. In fact, the City of South Tucson is in the process of acquiring the right away to make this project happen with money from the Regional Transportation Authority (RTA) and support from Pima County and the Trust for Public Lands. Construction on the El Paso & Southwestern Greenway could begin as soon as next year, and when it is completed it will link St. Mary's Road at I-10 all the way to the Kino Baseball Park on a car-free path!

THIS IS AN ADVENTURE RIDE ON AN UNEXPLORED COURSE!
We might have to backtrack, or get off and lift bikes over fencing or something. OK?

Come prepared! We will be off pavement all the time. Best to be on a bike with wider tires and puncture resistant tubes. We'll meet at Ordinary Bike Shop so riders can stock up on puncture resistant tubes or whatever else they might need for the ride, then ride over to Barrio Anita where the Railroad Right of Way starts.
We'll finish up conveniently close to Pico de Gallo where we can fill our tanks with some of Tucson's best tacos.

Here's a peek at the general route:
https://www.google.com/maps/d/edit?mid=zpc1IxKWrBIY.kcX0r80cRW