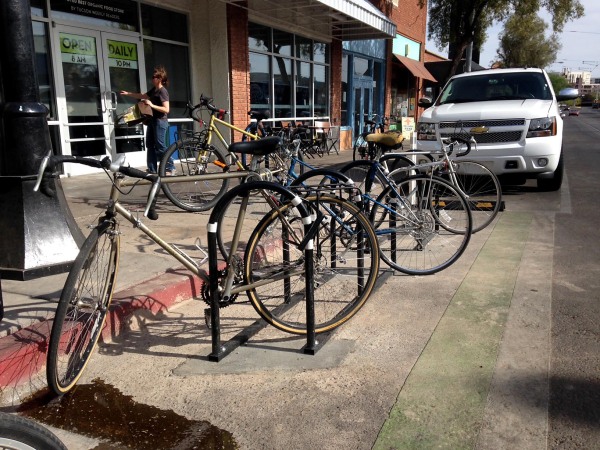 Riding around Fourth Avenue and University Boulevard last week, you may have been asking yourself where the bike corrals have gone.
According to Ann Chanecka, the City of Tucson's bicycle and pedestrian program manager maintenance crews are working on the racks to make them more secure.
The rack on Fourth Avenue outside the Co-Op has been removed because it is continually being damaged by parking vehicles.
Chanecka said they will reinstall it with more devices to prevent cars from hitting the rack. However, it won't be reinstalled until after the Winter Fourth Avenue Street Fair, which takes place Dec. 12-14.
The rack outside Epic Cafe at University Boulevard and Fourth Avenue as well as the corral near University Boulevard and Park Avenue are getting a more secure installation in concrete as opposed to the asphalt they are currently installed in.
Work is complete on the Epic Cafe corrall and crews should complete the last rack this week.