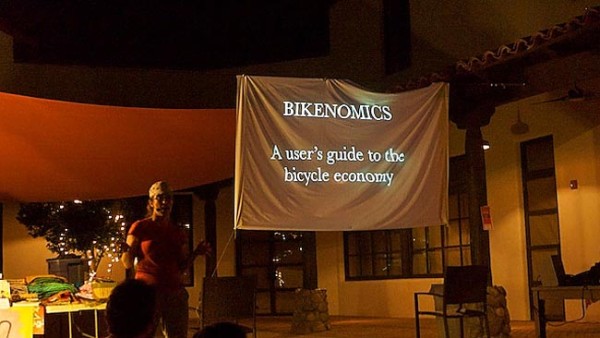 It could be a blessing or a curse, but you've got two bicycle event options to start your December off right.
The first is a Dinner and Bikes tour from 4 -6 p.m. on Dec. 1. The event is hosted co-hosted by Transit Cycles and features Portland Bicycle Advocates Elly Blue and Joe Biel as well as vegan chef Joshua Ploeg for a night of dining and bicycle stories.
Here's how the three describe the event:
As the audience arrives, they serve themselves from chef Joshua Ploeg's seven-course gourmet vegan and gluten-free buffet spread. While the audience is eating, local advocates discuss their work and local issues and initiatives over the first fifteen minutes.

Then, Elly Blue and Joe Biel co-present a new interactive discussion and presentation including eight short films about Groundswell movements, incidences where people demand better neighborhood conditions and successfully implemented them.

Stories include how Reading, PA came to be 13th on the East Coast for bike commuting without any advocacy or government spending, former gang members riding bikes to raise awareness about gang violence, Mexico City's superhero of the streets, Peatonito, the story of the League of American Bicyclists' equity council, how the City of Portland's Sunday Parkways worked as a response to gentrification, and how cyclists are representing themselves and creating their own voices all over the world.
This is not the first time the trio has brought their travelling bike show to Tucson. Check out the story about their time here in 2011.
The cost for the dinner and movies is $20. The event will be at the Co-Op event space at 425 E 7th St, Tucson, Arizona 85705. Tickets can be purchased here.
The second event is the Bike More Challenge Awards Party, which wraps up the month-long competition to encourage people to ride bikes.
The awards party will be held at Tucson Hop Shop at 3230 N. Dodge Blvd in the Metal Village from 5:30-7 p.m.
Here's the description:
Join us at Tucson Hop Shop to wrap up the first Tucson Bike More Challenge and celebrate the winners of each of the categories. Come enjoy the awarding of team trophies, find out who won the individual category grand prizes and throw your hat in the ring for random prize drawings at the party!