Dozens of people turned out  to the Tucson Pima County Bicycle Advisory Committee  to, mostly, voice their concern about a potential shared-use path through Tucson Mountain Park. Read yesterday's post for background on the issue.
Assistant County Administrator Nanette Slusser said the proposed paths through the park were just two of the many options that the county would consider  in the coming years. She said that the discussion was premature.
She said the county doesn't have an official plan or money to implement any type of path in the area, but have a goal of connecting the future CAP canal path to the Santa Cruz path.
"I've been warned many times by many people not to go through Tucson Mountain Park," Slusser said referring to the 60-80 emails she has received about the routes.  "I'd prefer to find an alternative. We are not going to do something that annoys our largest constituents."
Carolyn Campbell, the executive director of Coalition for Sonoran Desert Protection said when she was approached by the county, the one and only proposed route utilized the Starr Pass trail through Tucson Mountain Park, which is why the various stakeholders were so concerned.
Sonoran Desert Mountain Bicyclists President, Zach MacDonald said SDMB has no official stance at this point won't have an official stance until their next board meeting, but that is was clear the Starr Pass route was the path the county were most interested in when the they approached SDMB three months ago.
The documents that were circulated (see below) with the two potential routes included the estimated costs of each route for a colored concrete path as opposed to an asphalt path.
Slusser said she couldn't say that the a path through the park was off the table  because that decision needs to come from her bosses.
"It doesn't have to go through Tucson Mountain Park," Slusser said.  "As a matter of fact, it's unlikely at this point that it will from what I have heard, but we are not going to take it off the list because we want to tell people we looked at all of these options. That is how we are supposed to plan."
Slusser said the county is looking for other routes to connect to the paths that wouldn't upset residents and people who use the amenities in the area.
She said there will be a lot more routes the county will consider and lots of opportunities for public input.
That's something MacDonald appreciates.
"It was good to hear from Nanette Slusser that they were really just fact finding and looking att all of the different alternatives," he said.  "They are going to study the alternatives and bring those to the public. The mountain bike community and trails community will have plenty of opportunity to weigh in the best route."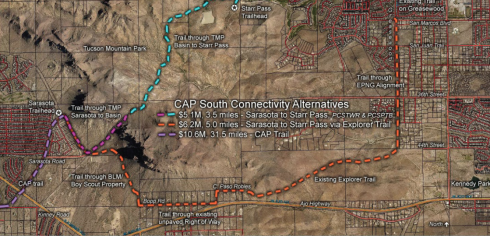 Download the entire CAP trail and connection routes here.