Cyclovia Tucson is a couple months away, but the organizers launched the new route this week.
The new route is an out and back stretching from the Lost Barrio, through Barrio San Antonio and up into Sam Hughes and Himmel Park.
Here's the map of the event, which will take place on April 10.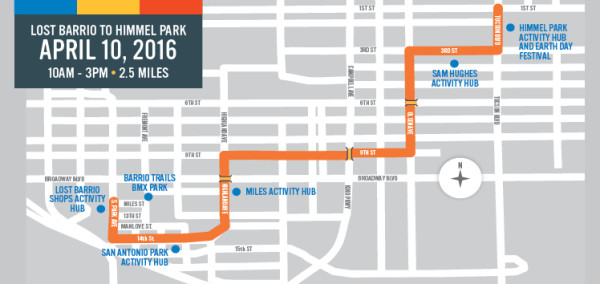 Here's what organizers have planned for the route:
Plans for activities along this new route are in full swing; there will be so many surprises to delight you. This is just a taste of the fun activities neighbors and residents along the route are working to bring to the event:

Earth Day Festival will move from its long-time home at Reid Park to join us in Himmel Park,
the Sam Hughes Neighborhood is planning a walking Garden Tour and Beer Garden fundraiser at the historic water tower site,
Rincon Heights Neighborhood will feature live music, water-harvesting demonstrations and a native plant sale
Miles Exploratory Learning Center will showcase student musical talent, and
Party in the street at the Lost Barrio Shops and discover a new local business to support!
And don't worry the route will head back to South Tucson in the future.
Don't worry — we LOVE the South Tucson route and plan to be back there next year. We want to thank the communities that have hosted this event in the past and honor the incredible amount of hard work that goes into organizing activities and mobilizing communities to participate. After a well-deserved break, we'll be back in South Tucson with bigger plans for more fun in 2017!