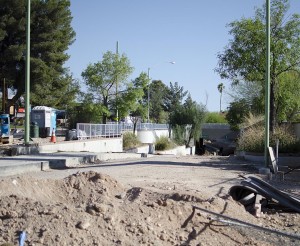 When the dust from the streetcar construction settles and the Warren Avenue underpass on the University of Arizona campus is reopened, bicyclists will no longer be allowed to ride through it.
Two weeks ago, the decision was made by the University of Arizona and the modern streetcar team to make a the Warren Avenue underpass a walk-your-bike zone because of safety concerns.
Shellie Ginn, the project manager for the streetcar, said since the underpass is on university property the city is going with the UA's recommendation.
"They have had multiple meetings on this," Ginn said. "We finally had a large meeting with the University. Several people were talking about the options for  the underpass. Ultimately the UA decided that they wanted to go with requiring bike riders to dismount when entering the underpass to provide the safest environment possible."
UA transportation director David Heineking said the ramps are steep and in some sections the path narrowed to under 12 feet causing concern for the safety of both bicyclists and pedestrians.
"Given the mix of bicycles and pedestrians we think are going to be using it, we don't see any safe way for bicyclists to be able to get through there," he said.
Federal guidelines indicate shared use paths should be a minimum of 10 feet wide and 12 feet paths are preferable in high-use areas.
Tucson-Pima County Bicycle Advisory Committee Chair Ian Johnson said he couldn't speak for the committee until they heard from the UA, but the decision comes as a shock to him.
"We were told that it would always remain open to bikes," Johnson said. "So this is a big shift and this happened quite suddenly. I am certainly taken by surprise and the BAC was never asked our opinion about this. When they made this decision a few weeks ago there were no BAC reps in the room, they didn't come to us to ask us what we thought."
Ginn said the underpass has always been an issue, but once construction started happening and it became clear how narrow it would, the UA became very concerned.
"It's never been 'Ohh this is how we are going to do it and then somebody just changed their minds,'" Ginn said. "That has been one those of areas where it has been under discussion about how to provide the safest route through there."
Johnson said he it trying to reserve judgment until he hears from the UA at the next BAC meeting, but thinks it is a mistake.
"It's crazy that they are thinking that no one is going to ride their bike through there just because it is a dismount zone," he said. "I think that providing a little bit of guidance for cyclists will be better than saying they are never going to ride through here and if they do it is their fault. On the other hand I am not in the risk management department so I don't see the world that way. I am sure if I did I would have a different opinion."
Originally the streetcar was not going to utilize the Warren Avenue Underpass. Instead, it was going to cross Speedway Boulevard on Cherry Avenue, but UA concerns about chilled water lines running under Cherry Avenue prompted the move to the underpass, which ultimately resulted in the prohibition of bicycle riding through it.
Heineking said he hoped bicyclists recognized it wasn't the choice they wanted, but felt that the safety of all the users meant they needed to make the decision.
"I'd hate to think cyclists are feeling put out," he said. "It's completely based on safety. The University really does support biking. We do our darndest to support biking and make it easy and convenient for folks that want to bike through campus or want to use it as their transportation to get here instead of a car."
Comments on this site and others by bicyclists indicate there is a growing level of frustration from bicyclists who have to ride along the streetcar route and feel like their safety hasn't been a priority, but Ginn said bicyclists have been a priority since the beginning.
"Safety has been a big push for us and I think it is somewhat exaggerating to say that this project has not taken into consideration  the bicycling community because it obviously has," she said. "Now this is one area where it is just so tight that the overriding opinion is that safety is going to have to come first on this one."
"The bike community has participated on this project for years and a lot of the design was done based on recommendations and input from the bike community. There are going to be some areas that are not going to be ideal for bicyclists and we are going to have to make sure that we are all working together to provide that education, signage and striping to make sure they they can ride through these areas with the least safety problems," Ginn said.
Johnson agreed that bicyclist have not been ignored, but says they certainly haven't been the priority.
"Bikes have not been ignored, but I think other interests have gotten more attention than we have," he said. "Particularly the needs of the merchants and the perceived need for on-street parking has gotten a lot more attention than the needs of people using our streets to get to their destination."
Johnson said safety along the route is a major issue.
"You always had to be careful, but now there is so little room for error," he said.
As for alternate routes, Heineking said cyclists can cross at Cherry Avenue, one of the other underpasses to the west, Campbell Avenue if they are skilled riders or, "They could jump on the streetcar. The streetcar is going to have bicycle accommodations on it."