What is a bicycle boulevard? Where would they go? How would they be implemented?
These are questions addressed in the City of Tucson's Bicycle Boulevard Master Plan released in draft form this week.
The Tucson Bicycle and Pedestrian program is hoping to get feedback from the community about the plan to make any final changes.
According to bicycle and pedestrian planner Andrew Bemis, the plan includes:
A summary of the history, current conditions, and benefits of bicycle boulevards in Tucson
Design guidance for the construction of bicycle boulevards
Conceptual plans and cost estimates for each bicycle boulevard corridor
A prioritized list of bicycle boulevard projects
A description of the implementation process
He wrote in an email to bicycle advocates that they are looking to make final tweaks before sending to the City Council.
Here are some of the highlights from the report:
1. What bicycle boulevards do:
Bicycle boulevards are residential streets designed to prioritize bicycling and enhance conditions for walking. Bicycle boulevards vary in character to reflect the unique neighborhoods they travel through, but all include the defining features and engineering tools to:

slow traffic,
reduce cut-through traffic, and
assist bicyclists and pedestrians in crossing busier roadways. Bicycle boulevards encourage biking and walking as transportation options for individuals of all ages and abilities because they are safer and tend to be more comfortable than using major arterial roadways.
2. Existing bike boulevards and their effect on traffic and safety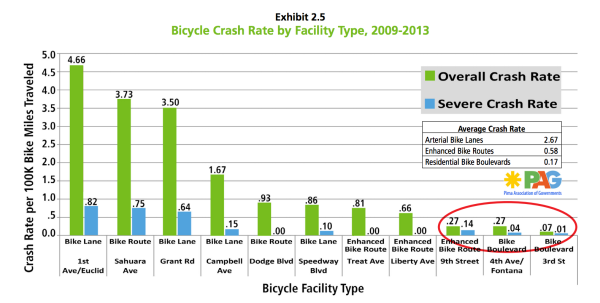 3. Pavement condition on bicycle boulevards
Pavement condition has a significant effect on the comfort and safety of cyclists. As such, it is an important factor in the effectiveness of a bicycle boulevard to attract riders. Many cyclists are likely to go out of their way to enjoy a ride on a well-paved street. At best, damaged pavement may create a frustrating and uncomfortable ride. At worst, bumpy, cracked or severely pot-holed roads can pose a challenge to a rider's ability to control a bike.

TDOT recognizes the significance of pavement conditions on bicyclists comfort and safety. When possible, TDOT implements higher quality resurfacing treatments on designated bicycle boulevards during regularly scheduled resurfacing projects. For example, during the June 2015 resurfacing of the Sam Hughes neighborhood, and the June 2016 resurfacing of the Peter Howell neighborhood, the Third Street Bicycle Boulevard was milled and repaved – in order to provide a better riding surface and to get the most value by investing in segments that are used far more than most other residential streets. In 2017 the Third Street Bicycle Boulevard in Miramonte East and Speedway/Swan neighborhoods will receive the same treatment.

Resurfacing schedules in the City of Tucson are currently overseen by the Bond Oversight Commission, created to administer the 2012 voter-approved Road Recovery Bond program. Efforts are being made to further prioritize the bicycle boulevard network for future resurfacing investments.
4. Priorities
While the goal is to implement the whole bicycle boulevard network, the reality of the funding situation means that select corridors will be enhanced as funding becomes available. In order to strategically develop the network over time, a prioritization process was developed.

Priority was first given to the eight in-progress bicycle boulevards that have already received some funding. The remaining 55 corridors were then ranked based on a data-driven methodology involving an analysis of regional bicycle demand, corridor cost estimates, existing infrastructure, and overall network connectivity.
5. Funding the network
The City of Tucson will have to find money for the routes through different grants and posts of money.
Provide feedback: 
The City of Tucson welcomes public comment and feedback on the DRAFT Bicycle Boulevard Master Plan. You can submit your comments using any of the options below:
• Fill out the online comment form
• Email your comments to Andrew.Bemis@tucsonaz.gov
• Call Andy Bemis at (520) 837-6596
• Write to us at :
City of Tucson Transportation Department
Bicycle and Pedestrian Program
201 N. Stone Avenue, 5th Floor
Tucson, AZ 85705