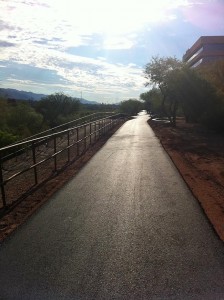 As of late, I've been spending a lot more time walking and running on the path with Truman and Luci than I am riding and its not been pleasant.
As bicyclists we all know the annoying pedestrian habits: Walking a dog and letting it run all over the path, stopping for seemingly no reason, walking over the yellow line, listening to music so loud they can't hear anything. The list can go on and on.
As a pedestrian I've been surprised at how often cyclists do some pretty obnoxious things.
What has surprised me the most is the shear lack of acknowledgment about passing. In the last week I counted about 100 bikes that passed us. Only 4 rang a bell or said something to let us know they were passing. I am one of those people who almost annoyingly rings a bell even if the person walking has earphones in.
I've also been surprised at the number of people who cut you off trying to get around you without having to slow down and wanting to beat the oncoming traffic.
It has opened my eyes on the importance of letting pedestrians know I am coming and being willing to slow down sometimes.
It's good to walk a mile in someone else's shoes once in a while. Now if we could just get all those silly pedestrians on bikes.