This post was written by Dan Majewski. He is a recent graduate (University of Arizona, 2011 – Regional Development) and a board member of the Living Streets Alliance.  He does not own a car and is passionate about helping make Tucson and Tucsonans less car dependant.
On Monday, (Editor's note: Majewski submitted this last week)  I looked outside at the pouring rain and decided I did not want to ride my bicycle to campus.  I decided to take the city bus instead.  I visited the Sun Tran website to find information on which bus route to take and when a bus would arrive.  Normally, I went to the portion of the website with all of the Routes & Times of departure and arrival for the routes.
Here, you can select a route and then view an image of the route itself as well as all the times a bus will arrive or depart from certain points along the route.  This is how it looks: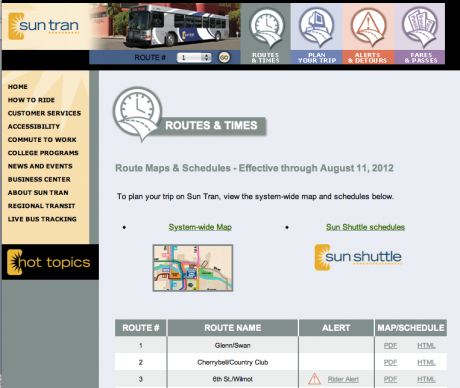 These schedules are helpful but they lack information I want.  For example, what if my stop is not at one of those numbered points along the route?  I then have to estimate the time it takes to travel between the numbered points.  Also, the wall of numbers on these schedules is difficult to read and decipher.
Fortunately, using real-time GPS bus tracking, Sun Tran has found a better way to communicate arrival times to riders.
On the website, if users click "Live Bus Tracking" in the left hand column, a menu of options appears.
From this menu, users can click "Live Arrival Times" to find out when, according to actual GPS readings, buses will arrive at a given stop.  Using drop down menus, users can select the route, the direction of the route and the exact stop they will be using.  The website then displays the arrival times of the next three buses which will be arriving at that stop.
 If the user has a smart phone, this information is even more useful: you can always find out when the bus will be coming to your stop and your stop only, even when you're on the go.
This new technology makes it far easier to figure out when to go to the bus stop.
On most days, I ride my bicycle to travel everywhere I need to go. However, if I ever need to use the bus, I now have a better way to find out when to leave my house and walk to the bus stop.
Have you ever used this technology?  What has been your experience with it?