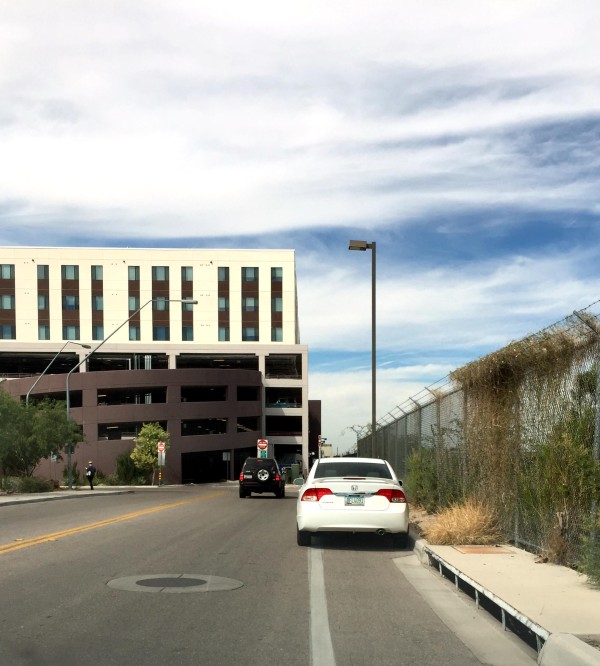 I received this photo with a question. "What can I do about this car that is parked here everyday?"
The person who submitted the photo above was told by the city that they couldn't tow it until it had been there for two days. At that point the city would consider it abandoned and get it moved.
You can take matters into your own hands when it is something small like a sign, which we dealt with last week, but when it's a car you've got to call in reinforcements.
A big challenge is knowing if you are within the Tucson city limits another town like Oro Valley or Marana, or if it is Pima County's jurisdiction. Knowing that will help you decide who to call.
Here are some of the common issues that need to be taken care of and who to call. If it is creating a dangerous situation be sure to stress that to the person you speak with. Cyclists are more vulnerable and things like potholes and debris in the the bike lane can lead to very serious injuries for cyclists. Make that clear when reporting the issues.
1. Cars in the bike lane
Cars parked in the bike lanes represent a serious hazard and despite what the person who submitted the photo was told they should be moved immediately. You can make a case for calling 911 if you think it is creating a dangerous situation.
The best bet is to call the non emergency lines for the Tucson Police Department, Pima County Sheriff's Department Marana Police Department or the Oro Valley Police Department depending on where you are.
Those numbers are:
Tucson Police: 520-791-4444
Pima County: 520-351-4900
Marana: 520-382-2000
Oro Valley: 520-229-4900
2. Potholes and debris
Anything that forces cyclist out of the bike lane or shoulder is dangerous for both the cyclists and motorists. Here's how you can report both potholes, or other debris that make it impossible to ride in the bike lane.
Arizona Department of Transportation Street Maintenance: 520-388-4200
Marana Streets Department: 520-382-2667
Oro Valley Street Maintenance: 520-229-5070
Pima County Street Maintenance: 520-740-2639
Sahuarita Public Works: 520-344-7100
South Tucson Public Works: 520-770-0032
Tucson Street Maintenance: 520-791-3154
Follow up
The squeaky wheel gets the oil. Be sure to follow up as many times as it takes to get the situation fixed.