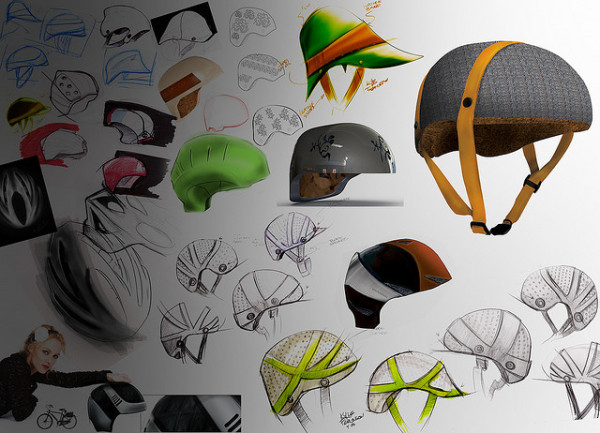 Editor's note: Long-time Tucsonan and cyclist Steve Wilson was prompted by an interaction between the two of us to write this post. Steve and I saw each other riding in opposite directions a few days ago. I was surprised to see him without a helmet and gestured toward his head, less as an admonishment and more of a question as to whether he had forgotten his helmet. Several hours later this post was in my inbox. My request is that we keep the conversation respectful. 
One of the great debates in cycling in the USA surrounds the question of bicycle helmet use.  It's basically in the category of what I would call 'religious arguments', meaning people generally feel very strongly one way of the other, and they are usually not interested in the arguments from the other side.  For me personally, my opinions on the matter have changed through the years, which I think puts me in a position to understand both sides.  Let me start with what I have seen and what I believe, this will help in understanding what I advocate today.
I've been fortunate to observe large numbers of city cyclists in both Copenhagen and Amsterdam.  I don't think many will challenge the notion that these are the two leading cycling cities in the world.  The combination of the sheer number of cyclists and massive amounts of cycling facilities is something that will amaze most cyclists from the USA who see it for the first time.  What the typical American cyclist will say in the first five minutes is, "Hey, no one is wearing a helmet!"  And it works just fine.
I've ridden over 135,000 miles in my adult life, mostly in Tucson.  I commuted 30+ miles roundtrip to work for years, and have been fortunate to have done unsupported touring on 4 continents and Central America.  I like biking.  A lot.
As a result of reams of anecdotal observations in talking with people about cycling over the past 20+ years I have come to believe this – The number one reason people don't ride (or ride more) in Tucson and the USA is fear.  I believe it's a bigger reason than all of the others combined.  And I believe this – The maniacal focus on helmet usage at all times contributes to the culture of fear.  Why else would helmets be required if cycling weren't 'dangerous'?
Getting back to Denmark and The Netherlands, there are people there who wear helmets.  Who are they?  Primarily they are recreational cyclists on higher end road bikes.  This has made me think – maybe there are multiple modes of cycling, some modes where helmets should be encouraged, and others where it doesn't matter so much.
There has been twice in my cycling career where I needed a helmet, and both times I had one on.  Both situations involved a relatively high rate of speed on road bikes.  In both cases the helmets were broken but I only had momentary loss of consciousness.  I was happy to have the helmet.
I have come to believe that there are times for helmets and times where it doesn't matter so much.  For me it has to do with the relative likelihood of a higher speed collision, and the relative control I have over the situation.  Before you start, I fully accept that something could always happen out of my control, but if you are going to argue that you should always do everything you possibly can in all circumstances, I expect to see you driving your car with a crash helmet – because there are possible circumstances where it could save your life.
If I'm on my road bike, you'll always see me with a helmet.  If I'm on an arterial roadway, you'll always see me with a helmet.  If I'm riding at night, you'll always see me with a helmet.  If I'm in the neighborhood taking bikeways over to the UA or 4th Ave, you may or may not see me with a helmet.  I'm comfortable with that.  You may not be and I accept that.  I understand your position – I used to be a 'helmet always' guy.  I've mellowed with age.
There are some other notes that should be considered.  I think that kids should wear helmets – until their skills are highly developed they are at greater risk all of the time, and as non-drivers they don't have the instincts of what to do in traffic.  The personal freedom angle doesn't come in to play for me.  For me not wearing a helmet is not about exercising any particular rights.  I just think that it's right for me.
My hope is that one person will see me without a helmet and think maybe it's not so dangerous out there.  And give a bike a try.  Just for a block.  They'll remember the thrill of gliding down the street with the wind in their face…and just keep going.