Editor's note: This is a guest post from Tucson's bike and pedestrian program manager Tom Thivener.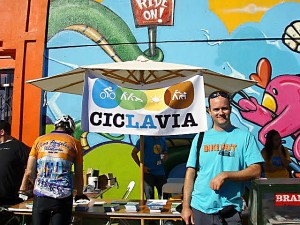 This past Sunday, I participated in Los Angeles' first-ever CicLAvia event.  I have a passion for Ciclovia events.  Once I saw the Street Film documenting Bogota, Colombia's experience I knew it was something that would be exciting to bring to Tucson eventually.
Then in 2008, while in Portland at the Car-Free Cities Conference, I was lucky enough to be at Portland's first 'Sunday Parkways' event which was modeled after Bogota's famous event.  Finally, last April with a small committee of dedicated folks and a bunch of helpful volunteers we pulled off the event in Tucson, which we named Cyclovia Tucson.
So with L.A. doing their first event at a time when they are getting more support than ever on bike stuff, I had to go to their event to experience it all.  Of course, getting there is always half the fun, and this trip was no different.
I did not want to drive to Los Angeles.  Luckily, getting to Los Angeles car-free is pretty easy.  AMTRAK runs three westbound overnight trains a week between Tucson and L.A.   You can take a bicycle with you as well, which I did.
They require you to pack it in a box, and check it in as luggage.  You can buy a tall cardboard bike box at the train station or use one of your own.  I happened to still have a cardboard bike box from my travels over the summer, which came in handy again for this trip. Getting my bike packed is pretty easy.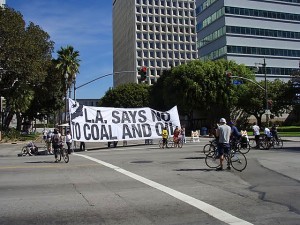 You just have to remove the pedals, handlebars, seat and front wheel to get it to fit.  AMTRAK charges a $5 fee for checking the bike which is reasonable.  I have used AMTRAK a few times to ship bicycles and I find that they handle luggage with a lot more care than the airline industry does.
So after hopping on the 10:30 train Saturday night, I settled into my reclining seat and caught some sleep as the train rolled past Yuma and Palm Springs. At 7:30 a.m. the train had arrived – a full hour early – into L.A.'s Union Station.
I put my bike back together and by about 8 a.m., I hit the streets of downtown L.A.  It didn't take long for me to find the route.  The 7.5-mile-long route for CycLAvia had already been closed for a few hours by the city and event officials.
Cars had been towed, barricades were up and police officers were already manning the main intersections in preparation for the start of the event.
The route they chose was 7.5 miles long and did not involve a loop, unlike Tucson and Portland's events.  Also different was that it featured a hard closure where all the side streets were barricaded off so that cars couldn't enter the route.
There were at least a dozen places where cars could cross the route.  LAPD assisted at these intersections even though they pretty much just left traffic to just use the existing intersection signal.
The route traveled through some interesting and very diverse neighborhoods.  I pedaled up before the event to the end of the route in East Hollywood where a small collection of bike shops have created what they call the "Bicycle District."
On the way to the bicycle district a friendly LAPD officer stopped me to ask what the purpose of the event was.  All he knew that it wasn't a race.  We chatted for a bit before heading up to the bicycle district.
By the time I had arrived a crowd of a couple hundred had gathered just before CicLAvia was officially underway.  The energy was great.  There were mostly adults there but definitely a few kids in the crowd.  Almost everybody was on a bicycle.  Not a lot of skaters or pedestrians.  But everybody was excited to be part of L.A.'s first car-free event.
Once the clock hit 10 a.m., CycLAvia was officially on.  I pedaled slowly down the route, enjoying the scenery of the event and of the neighborhoods.  The route was fascinating and very representative of L.A.'s diversity.  From East Hollywood, the route traveled through Korea Town, Little Tokyo, the central business district and over the L.A. River on a huge overpass to Hollenbeck Park, which has a distinctive Latin flavor.
There were several churches along the route, some of which were creating some fabulous music that could be heard from the route.
Along the route there were a few rest stops where there was usually an information booth selling cool t-shirts.  The shirts were made by HomeBoy Industries, a non-profit that aims to get kids out of gangs, with the proceeds marked as going to fund future CicLAvia's in L.A.  Everybody seemed to want a souvenir from the event.  T-shirts were the hot item, and at $20 a piece, I bet the organizers raised a fair bit.
In front of City Hall, Coca-Cola was giving away free samples of their products.  Coca-Cola also appeared to be sponsoring the free health care screenings in the next booth.  It was kind of funny, that you could have a couple cups of their caffeinated flavored sugar water and then get your blood pressure checked.  There also was a demonstration against the use of oil and coal going on at the same time.
I did not see too many activities going on simultaneously at CicLAvia, which was too bad.  It makes for a better event when you can break up the ride or walk with some fun activity to do or watch.  On the other hand, I loved the food along the route.  There were plenty of cafes and restaurants open for business and thriving with all the new business.  There were also a handful of food carts at the rest stops.
I probably rode the route back and forth three or four times during the day.  The L.A. Times estimated that the event drew in 100,000 people.  I am not sure I buy their estimate.  I have seen the start of El Tour de Tucson when 5,000 people are packed together behind the start line like sardines for several city blocks.  I have also been to two of Portland's Sunday Parkways events, which had 10,000 and 15,000 folks at them.  There definitely were a lot of people at L.A.'s first event but I would guess that the true number was closer to 20,000, folks.  I would guess that each person was being counted a few times during the event.
In any case, the event was still awesome.  It was amazing to see so many Los Angelinos enjoying car-free streets and it left me wondering what L.A. will look like in 20 years once the bicycle revolution has transformed the city there.
Please enjoy my pictures from the event.