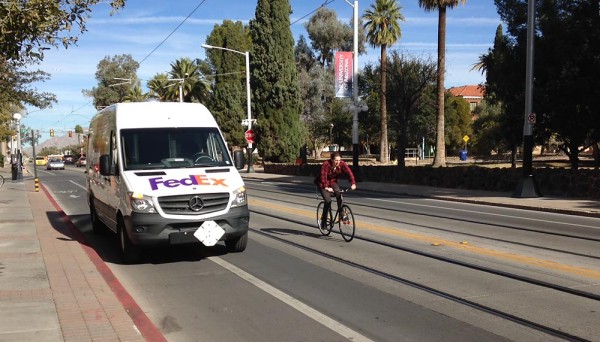 How many of you have ever thrown your hand up in the air or yelled a few choice words at a motorist who did something stupid? Yeah, me too.
It's always so unsatisfying isn't it? You are angry at them, the driver is angry at you for yelling at him and likely has little idea why you are upset in the first place.
I've come to realize for me, the lack of satisfaction come from missing out on an opportunity to have a conversation with the motorist about what happened and why you were upset. Instead both people leave the situation angry and believing the other person was out of their mind.
I've got two recent examples that really hit home this point for me.
The first happened while walking to the grocery store with my son in his stroller. Once we get to the parking lot, we hop on a little sidewalk next to the parking lot. It's only a couple feet wide. People often leave their carts on the sidewalk so they don't have to take it back to the cart collection area. It's frustrating as a pedestrian because we can't get by, which means I have to leave my son to move the carts down the sidewalk so that we can get by.
Last week I encountered a woman who was doing that very thing. She asked if we needed a cart and I said no. Instead of taking it back she started to leave it on the sidewalk. I said something like, "Why don't you put it back where it belongs." Needless to say she wasn't real happy and called me an asshole.
We both left angry and she has no idea why I wanted her to take it back.
Yesterday morning I saw the Fedex vehicle in the photo above parked in the no parking zone along Park Avenue between University Boulevard and Second Street. The area used to be a loading zone, but was changed because it was too narrow.
When I saw the truck, I whipped out my camera and started taking photos and started planning my angry post on this site and getting the plate number to call Fedex and complain.
Then the driver popped out the side of the truck and headed toward the elevator with me.
I decided instead to have a conversation with him. I explained that the area had recently been converted to no parking, which unless he was color blind, should have been obvious, but explained why it was no parking. I talked about the narrowness of the street and the danger the tracks posed to cyclists. I explained that the parking had been moved to the side street.
He thanked me for the information and seemed like our conversation may have had a positive effect. It's hard to know if it really did, but I felt better and perhaps he'll think twice about parking there again.
Now if only I can track down the woman with the cart and explain I'm not really an asshole.