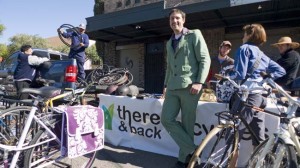 I want to welcome There and Back Bicycles as a Tucson Velo site sponsor.
Steve Vihel, who has worked in bike shops around the country,  opened There and Back Bicycles last month and is focusing on both experienced bicycle commuters and people who want to start using bicycles for transportation.
Vihel says There and Back Bicycles offers inexpensive, but high quality commuter bicycles from smaller companies like Birria and Linus as well as more established companies like Giant and Felt.
There and Back Bicycles offers many womens bikes and accessories in lots of colors and patterns.
In addition to bikes and accessories, Vihel will host various classes in the lounge area of his shop. Classes will range from how to change a flat tire to tonight's class about how to build your dream bike.
One the second Wednesday of the month There and Back Bicycle hosts a bike-to-work breakfast for bike commuters who stop in from 7-9 a.m.
There and Back Bicycles is located at 1712 E. Speedway Blvd., in the same shopping center as 1702 Pizza and Bentley's House of Coffee and Tea.
Stop in, say hi and let him know you appreciate his sponsorship of Tucson Velo.
Check out the original post about his shop opening.