Editor's note: Freelance writer Scott Lunt spends his cycling time piecing together impromptu loop rides and running occasional errands. Soaking in the Tucson sun since 1994, he can be found two-wheeling around town on his Bacchetta Giro 20 recumbent.
So you're riding on a road you've never cycled before. Lots of traffic is screaming by, but that's okay because you're in a nice bike lane. Oh happy day.
Then, a hundred yards after you just passed an intersection the bike lane starts narrowing until — poof — it ends like teenage first-love. Heartbroken, you suddenly feel much more intimate with the tons of metal and rubber that whizz impatiently past you.
This is what happens when you're riding east on Tangerine Road, just as you pass the intersection at Thornydale Road. Or consider riding north on Pantano Road. Just before the intersection at Wrightstown Road, the edge line abruptly ends in front of an apartment complex. It seems as if you can feel the mass of northbound traffic shift to the right at that moment.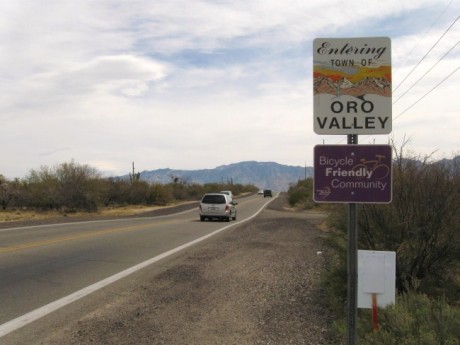 This may be no big deal if you're an experienced road biker or grizzled touring veteran. But for someone who's not used to riding in traffic, the sudden disappearance of their "savior lane" can be terrifying.
So why do perfectly good bike lanes suddenly end at the most inconvenient places? According to Tom Thivener, the bicycle and pedestrian program manager for the City of Tucson, reasons include:
Lack of funding.
The edge line is dropped to accommodate a turn lane or additional traffic lane.
There is simply no room to put in a bike lane, or the road is too busy and constrained to remove existing lanes in order to add a bike lane.
Thivener said he is aware of the gap at Wrightstown and Pantano. "I can't explain why it got striped the way it did," he said, adding that "when funding is available we'll look to shift the lines around so that we can put an edge line in for the bicyclists."
And if there's a case where it's physically not possible to add a bike lane, Thivener said that just reinforces their efforts to put in good bike facilities on parallel streets.
So is there an overall plan to address these gaps?
According to Thivener, the Bicycle Advisory Committee has identified around 200 different areas where there are gaps in the bike lane system on major streets and "we've been chipping away at that," he says noting they've completed dozens of miles in the past couple of years.
"Tucson suffers from a lack of funding to go and aggressively do these, but we're still chipping away given the resources that we have," he said. In fact, he notes, there are a few projects coming up this spring, all using Regional Transportation Authority funds, designed to complete bike lane gaps on the following roads:
Ajo Way from Valley Road to I-10
Valencia from the Santa Cruz River to 12th Avenue
Alvernon Road from Paseo Grande to 29th Street
As far as that intimidating little stretch on Tangerine Road, the situation is a little more complicated. According to an e-mail I received from Pat Klein, the constituent services coordinator for the Town of Oro Valley, the three-mile section between Thornydale Road and La Canada Drive encompasses three jurisdictions, with 0.7 of a mile in the Town of Marana, 0.3 of a mile in Pima County and 2 miles in the Town of Oro Valley.
The three jurisdictions are working on a design, as part of a RTA plan, to widen Tangerine Road from I-10 to La Canada Drive. The design includes a four lane divided roadway with six-foot bike lanes, and will be completed in three phases:
Phase 1 will be from La Canada Dr to Thornydale.
Phase 2 will be from Thornydale to Prospect Wash.
Phase 3 will be from Prospect Wash to I-10.
Depending on funding, Phase 1 is expected to start in Fiscal Year 2015/2016.
Although Tucson does have an impressive number of bike lanes compared most other cities, funding continues to be an issue so there's still a chance that you'll find yourself suddenly stranded between flashing side-view mirrors and the curb. So how do you avoid that?
Tucson metro bike maps are big help. And Thivener has more advice:
"Do your homework ahead of time. Get to know our streets. Get to know the route between your work, home, your shopping opportunities," he said. He notes that there should be alternative routes available in the residential areas if you don't feel comfortable on the main roads in the urban core.
He also recommends taking one of the bike safety courses offered by the city or county to help become a more confident rider.