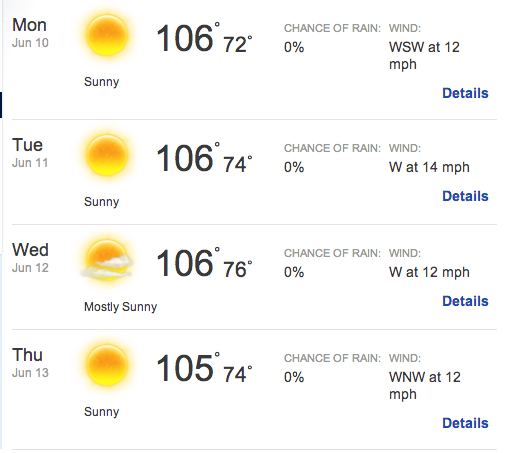 How hot is too hot?
Now that Luci is riding  — and pedaling like mad —a tag-a-long to her preschool, I've begun having to ask myself that very question.
The morning ride is fine of course, but with this week's temperature expected to be 106 degrees and having seen Luci's cherry red cheeks after pedaling home in 100 degree heat last week, I'm wondering when it's just too hot for younger kids to ride.
Taking the CETMA cargo bike is an option so that she doesn't have to pedal and can be in the shaded box, but she is all about pedaling to school rather than riding in the box, so it might be a tough sell.
Heat index appears to be one of the biggest determinants of whether it is safe to be in the sun and exercising. The graph below shows heat index, but doesn't take into account our own very low humidity.
The National Weather Service provides a heat-index calculator, which shows that with an expected temperature of 106 degrees and a humidity of 10 percent, the heat index will be 100, which is in their "extreme caution" zone.
The National Weather Service also provides tips for spotting heat-related illness. Check it out. Also check out the tips for riding in the heat.
What do you think? When is it too hot for you to ride?