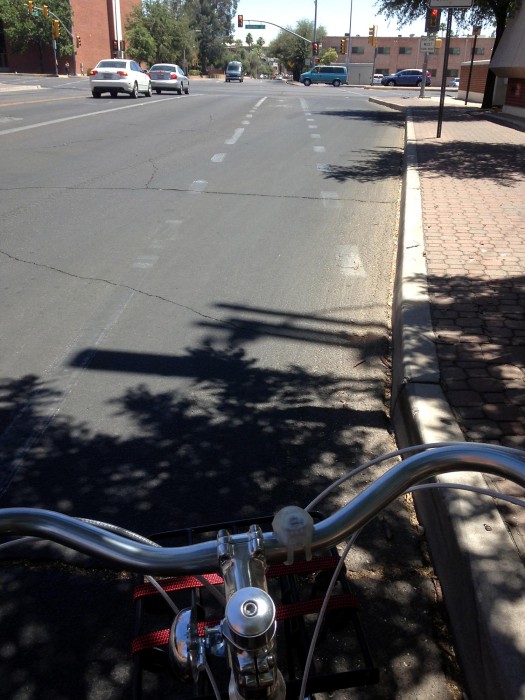 There isn't a cyclist among us who doesn't have some bicycle infrastructure improvement they wish would get added to the region's amenities. It may be a wide bike lane on a popular road ride, or improved pavement on 3rd Street.
There are however less obvious improvements that can be made that illustrate the level of bike friendliness of a city.
Copenhagen added foot and hand rails along popular routes so cyclists could wait for stoplights in comfort.
While I wouldn't mind the foot rest, what Tucson commuters really need is shade.
The photo above was taken a couple weeks ago heading south on Mountain Avenue toward the University of Arizona. I stopped a good 50 feet behind the intersection in order to enjoy the shade rather than baking in the sun.
This shade was actually a luxury. In most instances I'm riding north on Mountain in the afternoon and given the sun's position, there is no shade to be had.
So for the summer, I'm adding bicycle shade structures to my Tucson infrastructure wishlist. It could look something like this and be placed and intersections all along the most popular bike routes:
What about you? What is on your wishlist?