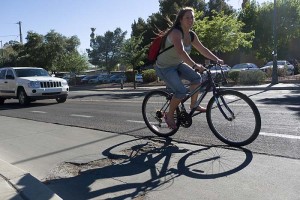 Yesterday, as Luci and I were riding near the University toward her preschool a driver passed us.
The driver swung wide giving us about 10 feet, but also sped up going much faster than the speed limit.
When the driver sped past, something I had been mulling over clicked. I prefer a driver who goes slow with reasonable space over a driver who speeds, but gives me a lot of room.
Clearly it doesn't matter how fast a driver is going if they pass too closely, say less than three feet, but I'd rather they give me three feet passing at 25 miles per hour than five feet going 40 miles per hour.
The challenge is that many roads get wider and wider, which tends to encourage drivers to go faster, but they often provide more room for cyclists.
Narrow streets tend to slow drivers down, but have less dedicated space for cyclists.
Obviously I'd like slow drivers and lots of room, but if I had to pick, I'd like to slow driver down.
What about you?