In the last few weeks, the Arizona Daily Star has been reporting more on the rise of bicycle and pedestrian crashes in the region.
The first was Tim Steller's piece about the lives of bikers and walkers being cheap. This weekend, Becky Pallack reported that Tucson has broken a record for the number of pedestrian deaths at 16 for the year. Another five have died in the county.
Here's a snippet of the article:
The trend is alarming, and it comes at a time when Tucson is launching a number of new pedestrian-safety projects, said Emily Yetman, a member of Tucson's new Pedestrian Advisory Committee.

Police and pedestrian safety experts say at least part of the increase is due to pedestrians being more distracted. In the first fatal incident this year, a man was wearing headphones and looking at a handheld device while crossing Valencia Road.

Pedestrians have a responsibility to be aware of their surroundings, just like drivers, said Tucson police Sgt.Mary Kay Slyter.

"Pedestrians think, 'I can see them: They must be able to see me,' but that's not the case,' she said.

Even in a crosswalk, people need to be aware of vehicles around them, she said. "You may be right, but you don't want to be dead right."
A lot of the article talks a lot about pedestrians and their actions, but in my opinion not enough attention is paid on drivers and their responsibility on the road. The fact of the matter is that we have drivers hurtling around our streets in two-ton vehicles at 45 miles and hour who are all paying little attention to the road.
It's true pedestrians need to pay attention, be aware of their surroundings and cross when it is safe, but not enough is being done to ensure motorists are treating driving as the privilege that it is.
The trouble with many of the crash reporting reports in which the victim is found at fault is that they are based primarily of account of the motorist in fatal crashes. It's often a pretty biased and one-sided account. Of course the motorist says the pedestrian or bicyclist swerved or popped out in front of them.
It's very hard to defend yourself when you are dead.
Sure Tucson has a texting ban, but to my knowledge no driver has been cited for driving and texting. I'll tell you, though, I see several people texting and driving every single day while riding my bike. We pay a lot of lip service to safety, but often the enforcement is lopsided and impotent.
The numbers are slow to come out, but nationally there has been a rise in pedestrian deaths. According to a report by the National Highway Traffic Safety Administration pedestrians were one of the few road users to see increases in traffic deaths in 2011 (Three percent increase). Pedestrians also saw a four percent increase in 2010.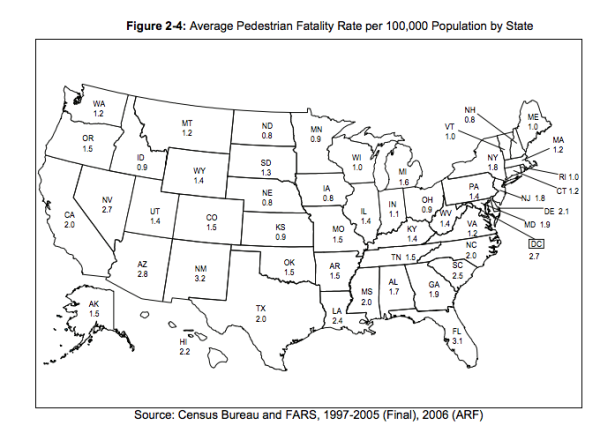 In 2010, Arizona had the third highest pedestrian fatality rate at 2.28 fatalities per 100,000 people. Only Florida (2.58 per 100,000) and Delaware (2.45 per 100,000) had higher rates.
So far in 2013, the rate in the City of Tucson is 3.2 fatalities per 100,000.
Nationally, there were 1.73 pedestrian deaths per 100,000 people.
According to a pedestrian report by New York City, the 3.2 fatalities per 100,000 people does not place Tucson in the top 10 when looking at 2008 data .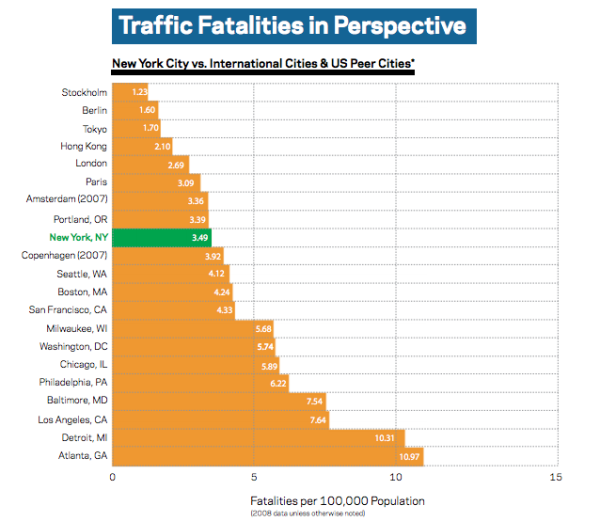 Out poor safety record has often been cited by the League of American Bicyclists as a concern in our Platinum applications and the situation is worse for pedestrians.