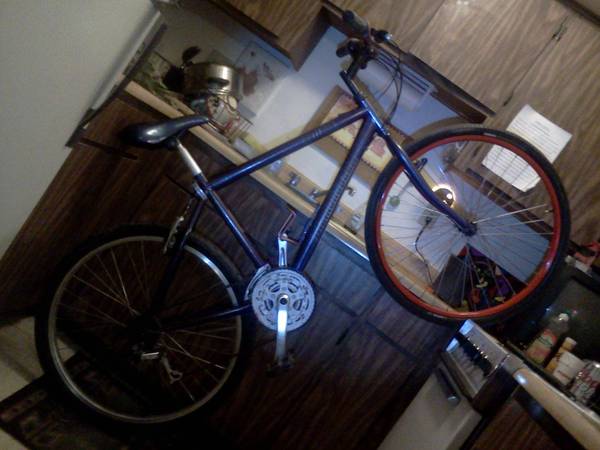 A Tucson woman went beyond issuing an ultimatum, she posted her boyfriend's bikes on Craigslist after she says he acquired so many bikes that he began parking them in the kitchen.
She's now selling them. $100 will get you one.
Here's the post in all it's glory:
I have too many bikes, because, my boyfriend started collecting them. When we ask him why he needs so many bikes, he simply replies, "I like to ride a different bike each day, because, I can. This is not working anymore, because he is now trying to park them in my kitchen. I gave him an ultimatum last night. Either the bikes go or I go, well, Naturally he has no problems parting with his beautiful bikes, because he said, "I can always build another awesome bike, but there is only one of you and you are my one and only, for life and beyond. He has mostly 26″ Mens Mountain Bikes, but he has amassed a huge inventory of miscellaneous parts. He is very meticulous and particular about his bikes, he even scrubs them with an electric spinbrush. One of my favorites is the 26″ Diamondback Outlook, I watched him prep the bike for paint for two days, before he finally used eight different metallic paints with clear coat. The base is a cobalt blue, then comes the magic of his talent, he sprayed the whole bike in less than 15 minutes and made a magical, purplish, flip-flop, custom paint job. He also has a nice 26″ Schwinn Frontier FS Aluminum with rapid shifters. The bikes have been very well maintained, sometimes I think he loves the freaking bikes more than he loves his frothy mourning cappuccino. The other bikes include a Trek, GT Timberline, GT Aggressor, Gary Fisher Tarpon, and a Nishiki Sport. He has alot of other frames and stuff, including kids bikes and 20″ frames. I have a 26" Women's Schwinn Ranger 2.6 FS that I would like to get $100.00 for, so that I can invest the money properly. Please feel free to contact me anytime between 9:00 am and 5:00 pm if you are seriously considering purchasing a nice top end mountain bike, because I want my kitchen back ASAP.