I've received several concerned  messages from TucsonVelo.com readers about the new Walgreens being built on the corners of First Avenue and Grant Road.
The readers were upset that the company had eliminated the bike lane in front of the store along 1st Avenue.
It seems like that is exactly what happened because the bike lane stops right before the new building.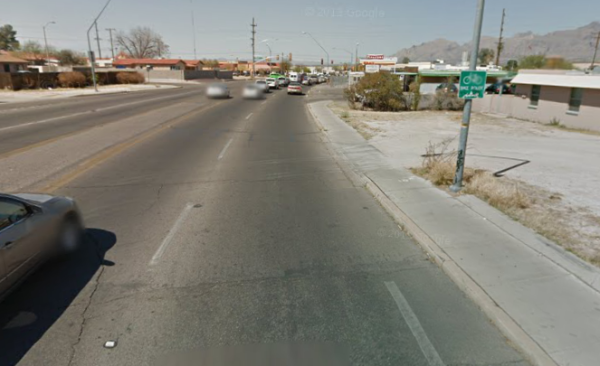 In actuality, a bike lane on that section of road never existed. Looking at aerial photos and Google Street view images confirm that the bike lane abruptly ends in the northbound direction a block before the new Walgreens.
The intersection itself is a complicated one for cyclists and has no connection heading north or south.
Cyclists heading south on First Avenue toward Grand Road lose the bike lane a block before the intersection. It is not picked back up until a block south of Grant Road.
Cyclists heading north lose the lane a block before Grant Road, but pick up a bike lane immediately after the intersection.
I've seen people do some strange things at this intersection because of the disappearing shoulders. Have you ever ridden on 1st through Grant Road?