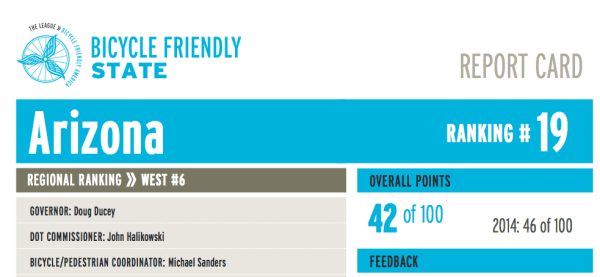 Another year and another lower ranking for Arizona in the League of American Bicyclists annual Bicycle Friendly State rankings.
This year Arizona fell from the 15th spot in 2014 to 19th in 2015.
Arizona has consistently fallen in the ranking since 2009 when Arizona was ranked 7th.
The state was ranked highest for "policies and programs" as well as "education and encouragement" while is received low rankings for "infrastructure and funding" and "evaluation and planning."
Here is the feedback provided by the League of American Bicyclists:
• Adopt a statewide Complete Streets policy. The National Complete Streets Coalition has a model state policy and a variety of other resources to ensure adoption and implementation.

• Adopt a statewide, all-ages cell phone and texting ban to combat distracted driving and increase safety for everyone.

• Ensure that no funds from the Transportation Alternatives program are transferred for purposes other than bicycling and walking projects.

• Invest in a Bicycle and Pedestrian Count Program. Modern counting programs rely on a variety of technologies, including continuous counters, to accurately assess the prevalence of people who bike and walk in communities. Consider offering a competitive grant program for communities or fostering a partnership with a university.

• Dedicate additional resources towards fully implementing the state's existing bicycle plan.

• Arizona has a high number of bicyclist fatalities. Ensure that bicycle safety is a major emphasis in all transportation projects, programs and policies to address this issue.

• Adopt a vulnerable road user law that increases penalties for a motorist that injures or kills a bicyclist or pedestrian. Model language is available here: http://bikeleague.org/content/model-legislation.

• Adopt a graduated licensing or re-testing program for driver's licensing that includes significant bicycle and pedestrian safety components.

• Hold a state bicycle summit with opportunities for professional development, contact with elected officials, and networking.
Find more information about how the rankings are conducted here and here.