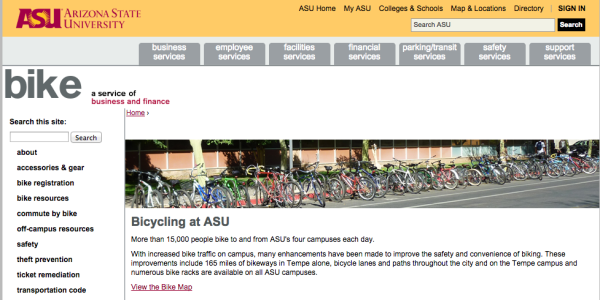 Our neighbor university to the north is once again besting the University of Arizona.
Arizona State University was awarded a gold-level Bicycle Friendly University this week topping the University of Arizona's silver award.
ASU's bicycle program manager Donna Lewandowski formerly worked in Pima County's bicycle and pedestrian program. She said in an interview with ASU's news service that the award highlights the university's sustainability efforts. 
Here's a snippet:
She added ASU already possessed the framework for a robust bicycling program. However, she also noted the university's certification prospects were bolstered by recent upgrades to the bicycle registration system and two League Certified Instructor seminars this past year.

Since August 2013, ASU has welcomed a variety of new parking options for cyclists, including a free bike valet service, two card-access parking facilities and new space-saving storage racks.

In the coming weeks, ASU also will receive a special street sign that highlights the university's gold certification.
Check out ASU's bike program here.