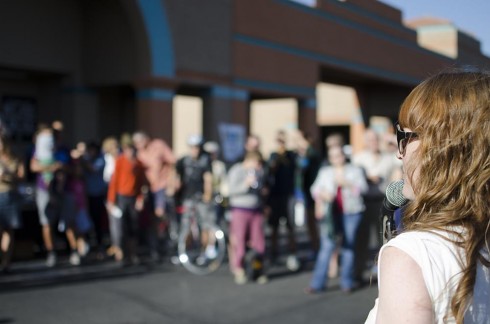 The Tucson-Pima County Bicycle Advisory Committee hopes you've got an idea about who should win the fifth annual bicycle advocate, commuter and bike friendly business of the year awards.
If you do, you can nominate the cyclist by emailing BAC chair Ian Johnson by March 5.
The awards will be presented at the kickoff of the 2014 Pedal the Pueblo event – formerly known as Bike to Work Week – in April.
Here's what the BAC says about the awards:
The Bicycling Advocate of the Year award will be presented to an individual, organization or agency that has worked diligently and effectively over the past year (or years) to promote bicycling as a means of transportation and/or recreation in Eastern Pima County.

The Bicycle Commuter of the Year award will be presented to an individual who resides in Eastern Pima County whose determination and dedication to using the bicycle as a means of transportation serves as a role model and inspiration for others in the community.

The Bicycle Friendly Business of the Year award will be presented to a business or organization based in Eastern Pima County that has made extraordinary efforts to make their business more friendly for those customers arriving by bicycle, or has made special efforts to make bicycle commuting easier and more attractive for their employees.
Nominations should include a few paragraphs in support of the nominees and contact information for you and the nominee.
Commuter of the year: Joseph Suida
Commuter of the year: Elizabeth Crump
Advocate of the year: Duncan Benning
Advocate of the year: Greg Yares
Bicycle friendly business: Technicians for Sustainability
Staff appreciation award: John Bernal
Staff appreciation award: Ignacio Rivera de Rosales