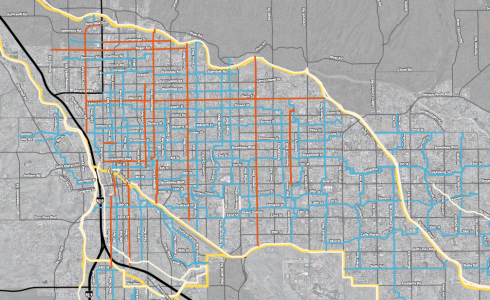 Soon Tucson may not have any bike boulevards, not because they are going away, but because they will likely be renamed and rebranded.
Ann Chanecka, the City of Tucson's bicycle and pedestrian coordinator, is starting a process to update the city's bicycle boulevard master plan and one of the things she's been hearing is that there is interest in renaming them.
She said communities like Portland changed the name of their bicycle boulevards to neighborhood greenways to make it more inclusive.
"It is just recognizing that the improvements that go into bicycle corridors also benefits pedestrians, kids walking to school, people waking their dogs in the evening, people walking to transit and just making the neighborhood more livable.
She added it has the added benefit of not turning people off because they don't like bikes.
"Some people really enjoy having bike projects in their community and some people are less supportive," she said. It's more intuitive for some people to be like, 'oh yeah, we are going to slow down traffic, we are going reduce cut-through traffic in our neighborhoods and we are going to make our streets nicer.'"
Chanecka is hoping to get input from the public on what the rebranded streets should be called. She'll be checking this post, so leave a comment with your idea.
Some of the suggestions have been: Paseos, Urban Oases, Cool Street and People Promenades.
In addition to the rebranding of bike boulevards, Chanecka has three goals for the master plan update.
1. She wants to ensure that the identified network is the best network for the communities. The original bike routes – the ones with greens signs – through neighborhoods were identified in the seventies and changes might need to be made.
2. Chanecka wants to prioritize the corridors so she knows which ones ones should be the priorities.
3. She wants to get public input about the network and intends to create a survey to gather the opinions of the community.
Currently five bike boulevard projects are being worked on.
1. Third Street/ University is getting new bike boulevard signage and depending on funding may get a traffic circle or two.
2. Liberty is a federally funding project and is slowly making progress, but will be a while before construction starts.
3. Treat Avenue, Copper/Flower and 5th Street are all funded by the Regional Transportation Authority and the city is in the process of hiring a consultant to do the designs for the corridors.
Check out the interactive map below:

View Tucson Bike Boulevards in a larger map