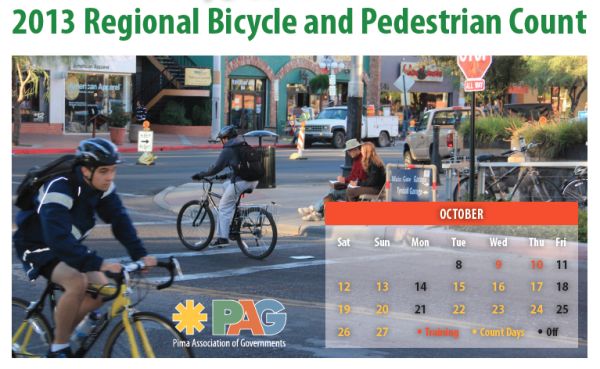 Pima Association of Governments is looking for volunteers for the 2013 regional bike count late this month.
This year marks the sixth bicycle count conducted in the region to gauge the level of ridership. Counters are currently needed at more than 15 locations throughout the region.
According to PAG, the main reason for the count is:
This regional effort helps transportation planners gauge bicycle and pedestrian activity in many parts of the community and also helps to inform priorities for safety and capacity improvements.
Here are the instructions for signing up (You can also download the PDF here):
Since there is a specific way in which we need the data collected, we ask all new counters to please take part in a brief training session (also mentioned in the flyer, along with training times and locations). For those of you who have conducted counts before and are willing to help this year, please consider signing-up right away. The sooner we fill our priority locations, the sooner we can open up more locations for counting.
Once you've read the flyer and have attended a training (this year or in previous years) please sign-up through the web map application, which is hyperlinked below. On the web map application, you'll see that only some of the count locations will be available for sign-up initially. This is because we want to make sure that our priority locations have volunteers before we open additional locations. So, if there is a location that you would like to count that is not currently open, please check back later.
In addition to the attached flyer, a PDF of the count sheet is attached. More information can also be found through the following hyperlinks.
The count web page is at: http://www.pagnet.org/bikecount
The web map volunteer sign-up application can be found at: http://gismaps.pagnet.org/BikeCountSignup
The 2012 count report can be found at:http://www.pagnet.org/documents/bicycle/2012RegionalBicycleCountReport.pdf
In addition to being attached, the count sheet can be found at:http://www.pagnet.org/documents/transportation/PAGBicylePedCountSheet2013.pdf
If you have any questions, please feel free to contact either of us at via e-mail at gthum@pagnet.org orjbrown@pagnet.org. We can also be reached via phone at 792-1093.