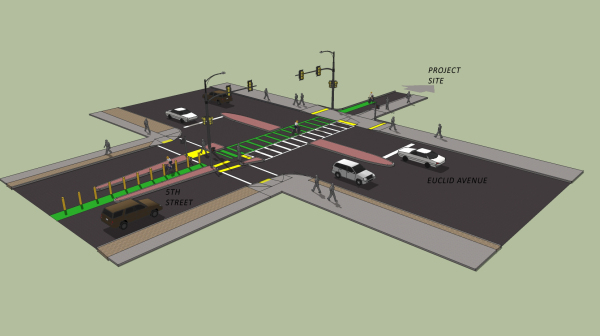 The City of Tucson is hosting an information session about the Fifth Street Bicycle Boulevard this Tuesday evening.
The route is designed to be an alternative to University Boulevard's streetcar tracks and the congestion of Main Gate Square.
The city's bicycle and pedestrian program manager Ann Chanecka said via email that she will share information about the two phases of the projects and seek feedback from the public.
The first phase will create a bicycle and pedestrian crossing at Euclid Avenue and 5th Street and a new pathway between Euclid and Tyndall Avenues. See the rendering above.
The second phase will be to add traffic calming enhancements along the corridor.
The information session will take place on Tuesday, March 24th at 5:30 p.m. at the Trinity Church, 400 E. University Blvd.
Check out our previous posts about the Fifth Street Bicycle Boulevard.