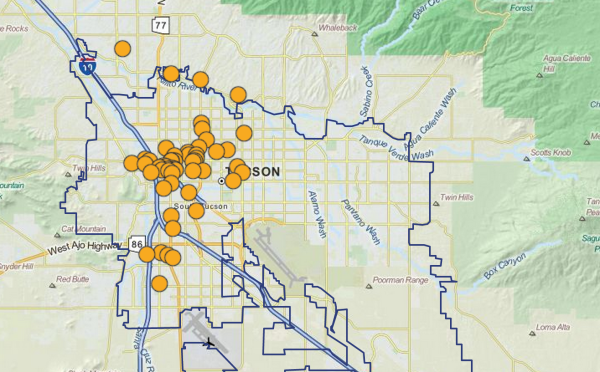 The City of Tucson has launched a bike share survey and customizable map to find out where Tucsonans think bike share stations should be located.
The public input is part of a feasibility study being conducted by an outside company in cooperation with the city.
The map allows the public to suggest where bike share stations should be located across the city.
Tucson's bicycle and pedestrian program manager Ann Chanecka said it looks like there will be about 30 stations at the launch of the system.
The map also allows users to comment on already suggested locations. So far about 50 locations have already been suggested.
In addition to the map, there is a 15-question survey asking for feedback about a bike share system in Tucson. The survey starts with this explanation of bike sharing systems:
Bike share provides a network of bicycles available at self-service kiosks around the city. Customers are able to access the bicycles with the use of a key card or fob, or through the use of their credit or debit card by purchasing a daily, weekly, monthly or annual membership. Most existing systems allow customers to make as many trips as often as they like without additional charge provided they return the bicycle to a station within 30-60 minutes (additional fees are typically incurred for keeping a bike beyond the time limit). Bike share is ideal for short distance trips and in many instances can provide a last-mile connection between transit and your final destination. 
It asks users about how likely they would be to use the system and how much they would be willing to pay for the service.
Chanecka said they are beginning to look for money to launch the system and look for potential sponsors.
If the system proves viable, she said the launch would likely happen at the end of 2016.