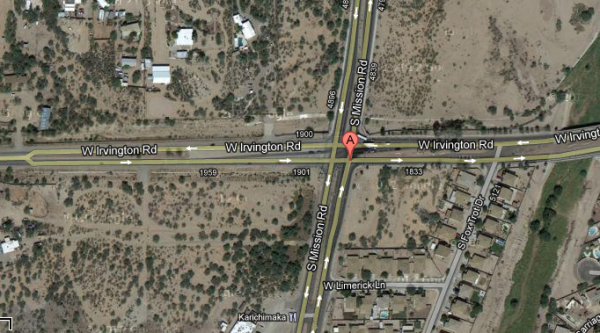 Update II: According to a press release, Akers was riding north on Mission Road. He was struck when he entered the intersection at Irvington Road. Investigators have also identified a potential second suspect in the crash and working with the Pima County Attorney to file "appropriate charges."
Update: The cyclist killed this morning was on his way to work at Sun Tran where he drove busses for the last 38 years. The Arizona Daily Star is reporting that his name is John Akers, 64.
Pima County Deputy Jesus Banuelos said that they investigators are still speaking with witnesses. A press release about the incident will be sent out soon. 
A suspect has been charged with second-degree murder and hit and run with a fatality after striking and killing a bicyclist early this morning.
The hit and run occurred near the intersection of Mission and Irvington Roads.
Pima County Sheriff's Deputy and BAC liaison Ryan Roher said via email that alcohol was involved. He said the suspect left the scene, but was later aprehended by Pima County deputies.
According to Roher the cyclist was wearing a helmet and witnesses indicate the cyclist was riding "within the law."
The Tucson Police Department originally responded to the scene, but it was later determined that the crash occurred in the Pima County Sheriff's jurisdiction and they took over the investigation.