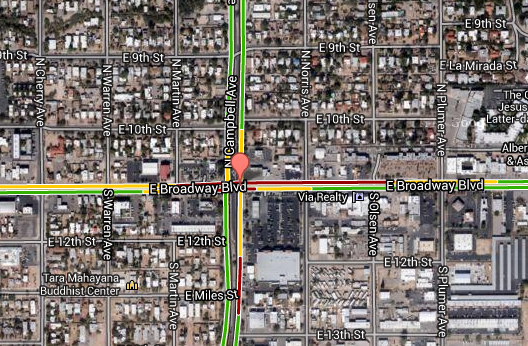 Update: Police have identified the victim as Albert Rich. 
A 19-year-old man was struck and killed by a semi-truck while riding his bike near the intersection of Broadway Boulevard and Campbell Avenue.
Sergeant Chris Widmer of the Tucson Police Department said the crash occurred at about 5:30 p.m. on July 3, 2013.
Both the cyclist and the semi were heading west on Broadway Boulevard when the truck made a right turn to head north on Campbell Avenue.
Widmer said the cyclist struck the truck's passenger side and was pulled underneath the truck.
The cyclist was taken to University Medical Center where he was pronounced dead.
No citations have been issued as of yet.
The crash was originally classified by TPD as a pedestrian crash, but several TucsonVelo readers reported a mangled bicycle at the crash scene.
Right hook crashes are one of the most common crashes in Tucson according to http://bikecolli.info. There have been several right hook crashes at this intersection in the past.
This is the first bicyclist fatality in the city of Tucson in 2013.