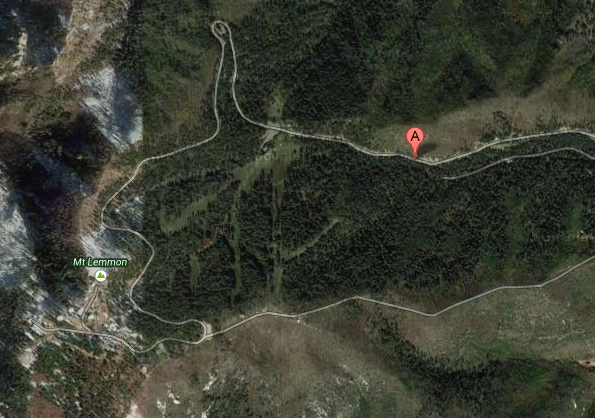 Updated: According to a press release from the Pima County Sheriff's Department, the man who allegedly fired his weapon on Mt. Lemmon was located, in part, because of a call deputies received from his family suggesting he was suicidal and parked in the Bear Wallow campground.
The release confirms that the man detained was taken to a medical facility after being detained. 
A man has been detained after allegedly shooting toward at least one cyclist and threatening several others on Mt. Lemmon this morning.
Tucson cyclist Scott Audilet said he was riding toward the radio towers on Ski Run Road between 10 -11 a.m. when he encountered a man sitting on the hood of his car who told him to "turn around right now."
Audilet said he continued toward the top when he heard the man fire three shots.
He rode away as quickly as he could and found workers who were able to contact the Sheriff's Department.
Audilet eventually  turned around and the man was gone. Audilet spotted him  him later sitting in his car at Bear Wallow Road.
It was at that point Pima County Sheriff's deputies made contact with alleged shooter.
Pima County Sheriff's Department public information officer Jesus Bañuelos said the investigation was ongoing and could not release much information.
He did say the person responsible for the shooting was detained and that the threats were not specifically targeted toward cyclists.
Audilet said he was told the man was being transported to a hospital for mental health evaluations.
Bañuelos said he could not confirm where deputies were taking the suspect.