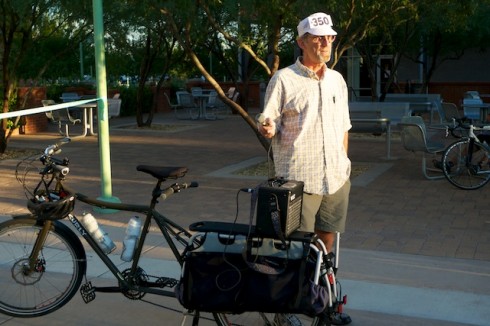 Tom Veljic didn't live in Tucson for a long time, but he made a big impact on those he met and on the projects he worked on.
According to friend, Veljic, a dedicated transportation cyclist, died in a car crash near El Paso, Texas on Dec. 26.
I've been un able to track down a police report, but apparently he was on his way to Arizona to visit family and friends when the crash occurred.
Veljic moved to Tucson in mid 2010 looking for work at a planner, which was his profession, but could never land anything permanent.
He worked part time for There and Back Bikes and then became a Pima County Bicycle Ambassador and spent a lot of time working on Loop projects.
He left Tucson in May and bounced around a bit.
I met Tom when I responded to an add he paced on Craiglist selling his Long Haul Trucker frame, which I purchased and am riding today.
He was a cyclist who always had a kind word and would lend a helping hand. He'll be missed in the cycling community.