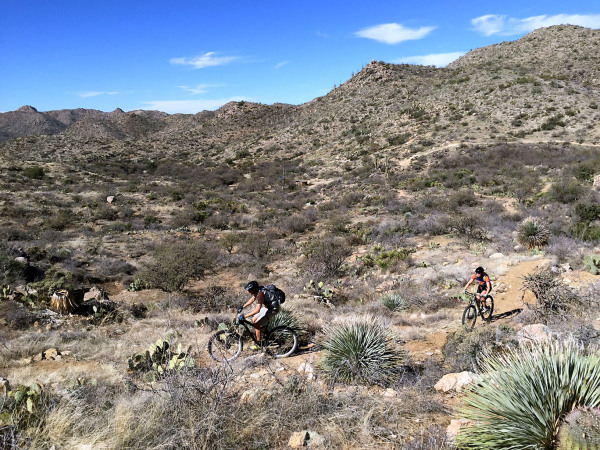 A post on Facebook by a mountain biker created a flurry of activity to clarify Oro Valley Police Department's stance on access to the popular Honey Bee trail system in Oro Valley's Tortalita Mountains.
A mountain biker was told by an Oro Valley Police Department officer that the dirt access road off of Quiet Rain Road (see embeded map below) was going to be closed to motorized and non-motorized users including mountain bikers. The officer told the mountain biker that anyone using the access to the trail system would be "arrested" for trespassing.
The trail system has grown in popularity as the number of trails in the area has grown. The post prompted mountain bike advovate Hank Rowe of Sonoran Deseret Mountain Bicyclists to get tothe bottom of it. Here's what he found out and posted to the SDMB Facebook page.
There has arisen some question about access to the Tortolita Mountain Preserve Trails via Rancho Vistoso – here is the low down: I just got off the phone with Oro Valley Police Sgt. Kranz who gave me the following information:

The utility easement extending off of the North end of Rancho Vistoso Loop is an easement held by the Western Area Power Administration, it is not officially a public easement. The land in question, many years ago, was dedicated to the Town of Oro Valley by the Vistoso Homeowners Association (do not quote on exact name – it's the property owners in question) to be designated as a public trail. In this regard, it has been dedicated as open space and has been designated as a trail in ways that we have all noted (crushed granite pathway, concrete benches, maintained garbage receptacles, and posts indicating "trail").

The Sergeant indicated to me that the Homeowners Association has no plans underway, and they have no intention of restricting trail access to hikers and bicycles. Their main concern is the restriction of motor vehicle access (if indeed you have been driving in and parking anywhere along this utility easement, that is the problem. Do not park there, you will be cited.).

Sgt. Kranz has been speaking with certain individuals (one of whom was affirmed as "Jim", who videotaped us a week or so ago). The sergeant indicated that it is the goal of these individuals to restrict all access… But again that is not the position of the Homeowners Association nor Oro Valley Police Department.

In other words, if you want to drive in to the State Land, get an Arizona State Land Trust permit and drive in via Rail X Rd. in north Catalina.

Sgt. Kranz affirmed that as long as we parked in public parking areas, such as the official Honeybee Trail Parking Lot (west of the trail access), or the public bank/police substation parking lot (east of the utility easement), and we rode our bikes or walked through the public areas of that easement that nobody will be cited for trespassing.

Please pay attention to posted signs. If you witness any suspicious behavior please contact 911 – for example last January there appeared to be an issue with a buried PVC pipe – these should be directed to the Oro Valley Police Department.

I am continuing to follow up on this with the Oro Valley parks and recreation director, and will advise based on that discussion.

Please share this information with those who frequent the trails.