For the last sixty days, artist, bike advocate and former Arizona Wildcat Jennifer Beatty has been recreating iconic posters by using only bike parts.
Her project, 100Hoopties.com, stems from a series of 100 Days projects, which is part of the  Masters in Branding  at the School of Visual Arts in New York City.
Beatty, who has worked as a graphic artist for the last 10 years, was a bicyclist and advocate in Los Angeles before entering the graduate program in New York last year.
Beatty said the pieces don't last long.
"Once it's photographed it's destroyed," she said. "It's almost cathartic. It gets me to love the process and not the pieces. Plus there is no room to store them nor enough time to ever clean that much chain."
She is however selling prints and more in her online shop.
Beatty said on average each piece takes about 1-1.5 hours to complete, but said creating the post — which includes information about the poster — can make the whole process take about 4 hours.
It's gotten easier as she's learned how to get the effects she is looking for.
"The first ones were hard because I was still figuring out the process and how to actually make them all," she said. "T
hen I got faster once I figured out some movements, timing…and that the chain really needed to be cleaned and scrubbed."
As for the parts, she said she scavenged them two different bike shops in New York City and hasn't had to go out to find new or different parts to complete any of the pieces.
She selects about 10 posters to make at a time and tries to leverage holidays, anniversaries and other themes.
Her favorites include: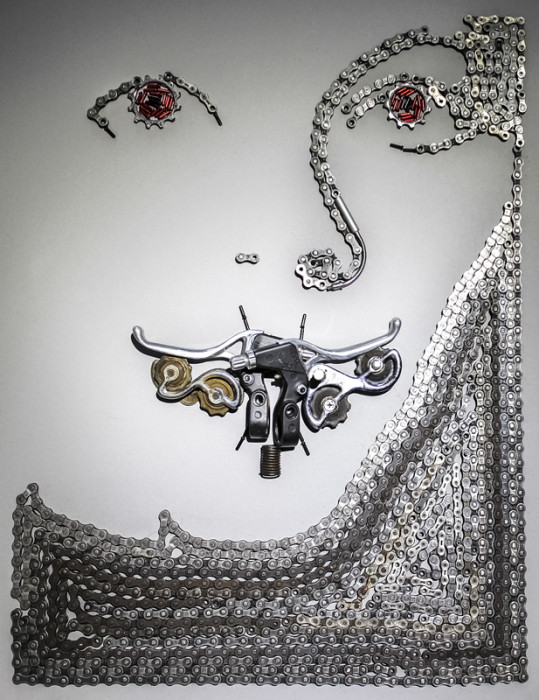 Check out the full gallery of the 60 Hoopties created so far and follow the project on Facebook to check out the next 40.